At times genres define what you can expect from a game. However, some games will take the basics and innovate on them slightly to make something new of the genre.
Siegecraft Commander is a strategy game where you need to build a base and destroy your enemies' own bases to take control of the map and win the level. Which sounds like many games we've seen before. However Siegecraft is different in that it has levels that are both turn-based and real-time; depending on what level you're currently playing. Bases are built in a slightly different way to the norm as well. While there are resources to be found they are very minimal and not required to expand your base. And instead of simply placing a new building – you fire it out of one of your existing buildings.
An awful lot of this game requires you to shoot things, either shooting out another arm of your base to build a chain further into the map, or shooting at the nearby buildings of your opponents. You cannot really move or advance any other way, and while you can get ground and flying units – you have no control over where they head or what they attack.
The game comes with three different modes; singleplayer, multiplayer and, in a first for a game we've reviewed here on the station, a VR compatible mode. Singleplayer is campaign and comes with two different campaigns, one that follows a band of knights as they explore looking for treasure with mainly turn-based gameplay and a map that places you against a corrupted tribe in real-time gameplay. The former is probably the first one new players should go for, as it does include tutorials to help you learn what does what and how to build certain buildings.
This game is very creative a take on the strategy game genre. It combines both real-time and turn-based play with a unique base-building style that I've not seen from games of this type before. Attacking a chain halfway down becomes a legitimate strategy, as destruction there leads to all further buildings built out from it also being destroyed as its 'lifeline' gets cut. It's very hard to do, but it certainly works.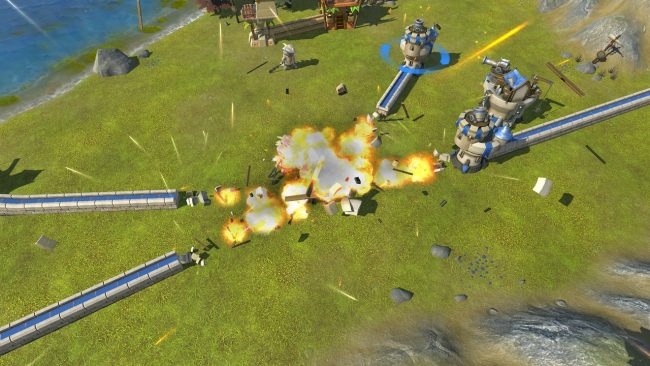 But oh, for a game where aiming and shooting is the main game mechanic I do wish it was easier to aim. The tutorial doesn't entirely make it clear how you properly aim and it took me a little trial and error before I finally got it down. The fact that there was no camera rotation also sometimes makes aiming a little weird as well as meaning sometimes you can't see things that are hidden before the 3D environment of the maps you play on.
Siegecraft Commander is a very well put together game that plays with the basics and tries hard to do something fresh and interesting. It's priced at £14.99 for the UK and $19.99 for the US, and if you're looking for a different strategy game, this might be the one for you.
7/10