It's time for your weekly look at gaming campaigns from Kickstarter!
First of all updates on ones we've previously covered, and this week pretty much all of the ones I've previously covered have some sort of progress report to put up. An awful lot of it isn't good news though, and many of our previously covered campaigns are left with little time and a lot of money to make up. These include Forged of Blood, Organism8, The Unique Adventure, Hellpoint (which could still make it, but we'll see), Super Plexis and War of Velana – all with a lot of goal to make up and between 56 hours and 9 days to make it up. Not a lot of time. One of the other campaigns has also concluded, but not a success. This is Attack on Kitten, and the devs have called it a 'learning experience'. They've not given up either and have set up a mailing list to keep fans informed of their progress.
However there are also some campaigns doing very well, to the point that they are funded without having finished yet. These are Forsaken Castle, OUTBUDDIES and Maximum Apocalypse. There are also two campaigns that have concluded successfully, and these are Pawarumi and our friends over at Gametee with their Finest Leather Notebooks for Gamers. I personally backed the latter a little and I can tell you – they're over the moon for the amount they've made. Can't wait to see the results from all these campaigns.
---
First up, we have a multiplayer party game using one of the few cute creatures not yet seen in many video games – otters.
The game is a 4-player and by the looks of it has all the colourful set-up you'd expect form a party game. The point of it is simply, control your otter, choose your weapon, fight your opponents using them. And because it's a party game, they're silly weapons too – eight of them with the first three of them mentioned on the campaign page being the portable oven (yikes!), taco boomerang and tar balloon.
OtterBash has a target of CA$ 150 which isn't a lot to ask, and they've made CA$ 24 already so far with 19 days to go.
---
Next up we have a tabletop RPG game with a difference – one player character and many GMs.
Trouble For Hire follows one man – Ruben Carlos Ruiz – as he journeys through the American Southwest who is a smuggler, courier and wheelman. Everyone else involved plays something else that interacts with Ruiz on his journey, from a villain standing in the way to the progress along the road. Interesting idea, and if co-operation can happen with a bunch of player characters there's no reason this couldn't work too.
Trouble For Hire has made $754 of its $5,000 goal, and has 28 more days to run.
---
Third, we have an MMO game that says it has 'no factions'.
Describing itself as an "open-world, non-faction based, no P2W, high-fantasy MMORPG" the developers say that they aim to "change the face of the genre". Bold claim. The game says that players have a responsibility for all of 'civilization' in the game and that means that players must come together to build settlements and make decisions on whether neighbouring cities are friendly or hostile – maybe getting too close. Maybe there are no in-game factions, but I bet the players will form some pretty quickly.
Ashes of Creation has 31 more days to run and has made $470,125 of its $750,000 goal.
---
"The Watchmaker" – Time's Collapse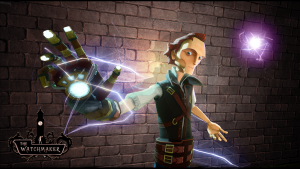 Finally we have a game that involves time as a central piece.
Alexander is here to repair the large clock mechanism he finds himself in, but time is out of control and Alex must not only find out what happened, who sabotaged the clock and why he is there – but also fight against time itself as the out of control time causes him to age at an accelerated rate. The game is a third-person and involves a good deal of puzzle-solving which is as you'd expect from a game that makes good use of a time mechanic.
The Watchmaker has a $30,000 goal and just 3 more days to make it. It's raised just over half of that at $15,770.