Another week for me venturing through World of Warcraft and both my characters have travelled a fair distance, leaving behind the places they were previously and entering new territories and meeting new people.
Dungeoneering
Teddired started off my week and Lone decided to take me into a few dungeons, playing with his own Pandaren as we journeyed through various dungeons with a group of other people who had been placed into our instance. Now, I used to have an opinion of MMO games. I used to think they had a few too many people who were dicks solely for the sake of getting their laughs at the expense of others. Most of the people we played with were fine. One person we ended up grouping with twice and refused to do his job as tank, allowing myself and Lone to take aggro. Fortunately last week's experience with Blackpowder Inc. had already introduced me to the nicer side of dungeons so I didn't take it to heart.
Also, my boar decided he wanted to sit in the same chair as me after one of those aggravating dungeon runs, and it's nice to know that he's there for me through it all…
After the dungeon running I finally finished up where I was and headed across to the Stranglethorn area I'd accidentally found my way into last week before realising I was following the wrong quest marker. Picked up some missions and then decided to get a nice little photo to commemorate being near lush green plants again that weren't super creepy.
I headed down into the camp where the majority of my picked up missions were set and began killing enemy soldiers, trying to get to them and pick them off before the other players in the area could wipe the map clean. I've never known such competition, and many of them ignored my attempts to offer to share kills (i.e. we both land a hit, we both get loot) so I said 'Fuck it!' and joined them in the ruthless hunt for targets to fulfill my quota.
And then I met a new friend.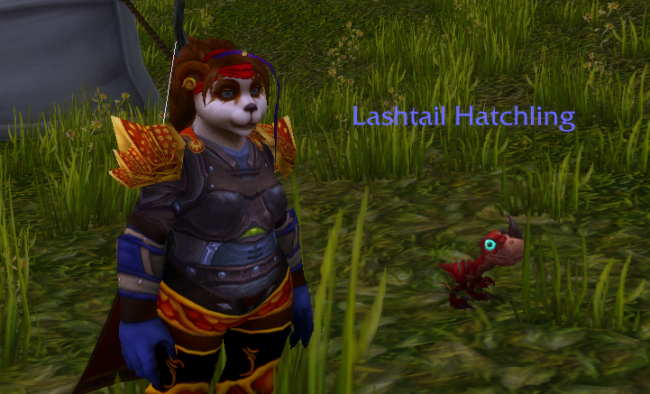 I became a Hunter because I love pets. Now I have a tiny raptor following me around as well as my lovely boar, and although he doesn't really do anything or contribute to attacks I'm glad to have him with me. This hatchling is an unexpected bonus for completing some missions down in that camp and although I have a feeling at some point I will have to give him up I'll enjoy his presence while I can.
Travelling Further By Accident
Meanwhile Bodeclaw was wrapping up missions where she was. I had a choice of two left to finish off, one to instigate a Furbolg uprising with the aid of a magical rod; the other to report to a place in the next area of the Stonetalon Mountains. I decided to pop over quickly and get the Stonetalon missions rolling before coming back when I hit a dead end to finish off the furbolg quests.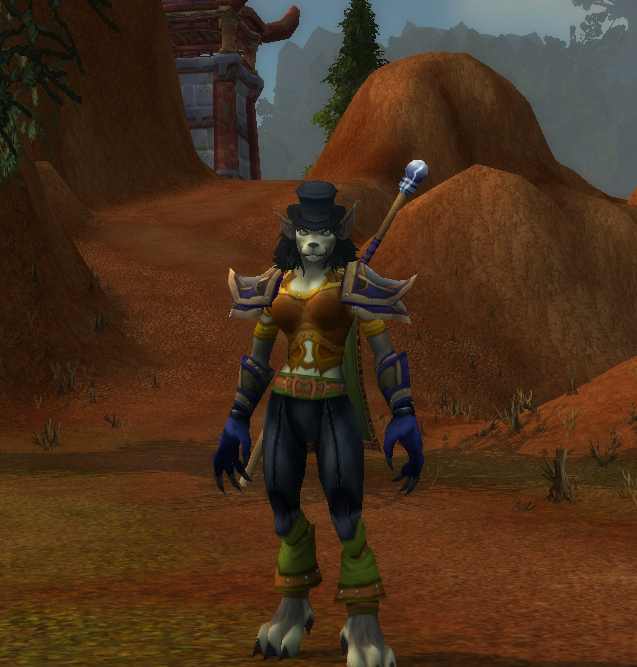 After a little confusion about which way I had to go to get up to the outpost (the path was behind the other post I got the mission from) I ventured into the Stonetalon Mountains only to find that this was an area that not only other Alliance players were in – but I saw the odd Horde player too. And the first one killed me seeing me dash away from an NPC opponent with half health.
Bastard.
Because of this after completing the first missions I had taken, I decided to race forward to complete those quests and then I'd go back for that Furbolg mission. That would be what I'd do. So I raced forward and eventually found myself at the Northwatch Expedition Camp.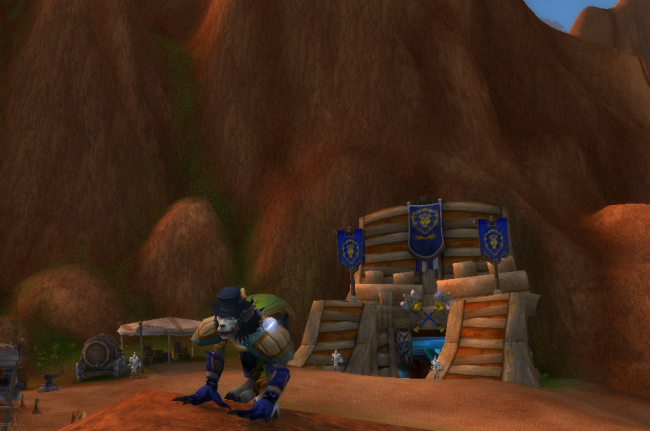 Some interesting quests saw me racing all over the place and eventually collecting all the components for the Ramlette, I encountered the first Horde NPCs who weren't hostile to me. The Grimtotem Tauren. I like the tauren race, especially their background. I'd be a tauren, but I want my eventual Horde alt to be a Warlock and I don't think Tauren can be Warlock… I'll have to double check that.
So eventually I found my way down to the Grimtotem Post and began recruiting their aid for the Alliance. I have respect for them, and frankly the skull facepaint looks awesome on the models.
I then continued on to more Alliance settlements along the way and eventually made it to Honor's Stand where I took on a quest to fly a survey vehicle. It flew… rather further than I thought it would. Now I'm at Northwatch and although I have the flight points marked along the way, I'd rather run back and complete all the quests along the way…
… I guess the Furbolg uprising's going to have to wait until next week to get started.