It's time for a look into Kickstarter and what looks interesting in the gaming section of it.
Catching up as we always do with our previously covered campaigns, we start off again with the bad news. A number of campaigns have unfortunately concluded unsuccessfully; these are Forged of Blood, Organism8, The Watchmaker – Time's Collapse and War of Velana. Forged of Blood's developers have said that they still feel able to make their game and get it out for the 2018 estimated release date, while the developers of Organism8 are going to rethink their strategies before trying again. The people behind The Watchmaker also remain committed, although they say that development may take a little more time now; and the ones behind War of Velana are also pressing ahead with their game's development. One other note for the downside news this week – The Unique Adventure has 52 hours to go at time of writing is is far short of its goal still.
However on the good news side of things, a number of our previously looked at campaigns have either finished successfully or have made their goals with time to spare. Those that have finished are Super Plexis, OUTBUDDIES and Maximum Apocalypse. Those yet to finish but doing well are Hellpoint (which I noted last week was struggling but could still make up ground, and it seems it has!), OtterBash!, Ashes of Creation and Forsaken Castle.
---
First up we have 'hand-painted' creepy game about seeking one character's will to live.
A 'soul's light' is what keeps all of us going, keeps us wanting to live. It's also what the horror Mr Grinny seeks to steal from people to enter our world and drag people into his own. Each person's light is hidden in items that have special meaning to them, and enough of those will keep him at bay. The creature is based off the nightmares of the developer themselves, and gameplay sees you using your soul's light to keep at bay shadowy creatures while still maintaining it long enough to reach an end and take a stand against Mr Grinny.
Soul's Light has $25,000 goal of which it has raised $5,670 with 18 more days to run.
---
Next up we have a game set in space in which you control a three-man squad.
A space dungeon crawler-type game, Sons of the Void sees you taking control of the squad in their mission to save the universe from near destruction. Exploration, shooting and looting are all a big part of the game, and since it also lists itself as a roguelite you can expect some roguelike elements to the gameplay. Your squad are part of a group called the Sons of the Void Society, given the task to travel the universe and unite the pieces of the Void to save everything.
Sons of the Void has 30 days to go, and has made €2,212of its €45,000 goal.
---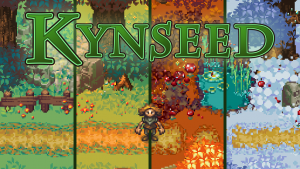 This one is a game from a studio formed of ex-Lionhead employees. Nice to see them still in the game… excuse the pun.
Kynseed is described as a "quirky 2D sandbox RPG" and sees you living your life and building a life… and then passing on your 'kynseed' to the next generation of your family to continue on with. Farming, blacksmithing, running a tavern and raising a family – it's all here and it's up to you how you choose to spend your life and those beyond it.
Kynseed has made £9,146 of its £30,000 goal and has 25 days to go.
---
Finally we have an action adventure game.
PipPow has been made to be "the next big action platformer" and the developers say that they are "creating the adventure game everyone wants, with the combat that feels satisfying." You play as Victor, our protagonist captured and forced to endure the hostile wildlife of the planet he's on for the entertainment of his captors, watching through television show PipPow. You must escape without the producers of the show realising what you are doing, so you need to get good at playing to the camera too.
PipPow has a goal of $35,000 of which it has made $150 so far. It has a further 34 days to run.