So it's been another week and I've made some progress in the game, although I've not had a great amount of time to play this week. Still, both Bodeclaw and Teddired have had their adventures.
The Long Run Back
You might recall that we left Bodeclaw extremely far away from the last mission I had to complete in Ashenvale, thanks to me wanting to start some of the Stonetalon Mountain quests – which led to my hopping on a survey vehicle that carried me away from Honor's Stand and all the way to Northwatch and the Barrens. And I was adamant that I would run back to Honor's Stand because of it.
Now part way across the Barrens I found the spontaneous jungle known as the Overgrowth and with it more quests to take and complete. So I did, because I thought I might as well complete some along the way and so had one of my first encounters with the Nightmare.
I've read up on some of the World of Warcraft lore since getting into the game, I know about the Emerald Dream and the Nightmare corruption that moves through it and tries to break through to the waking world of Azeroth. I also know that the Dream has a lot of druidic ties, so I was bound to encounter it at some point. Fortunately it wasn't a strong breech but I know that it gets worse later on. I've watched others play the later missions…
Anyway, with those tasks completed I returned to the camp and found myself directed to another fortification which I headed to, just to get the flight location for my map to make going back easier… and picked up even more missions in the area. It was at this point that I decided that I had been sidetracked long enough, got down into Running Wild mode and headed back for the Overgrowth and the path to Honor's Stand.
Dangerous terrain though in some places…
Once I got to Honor's Stand I briefly debated running my way back through the Stonetalon Mountain area to get back to Ashenvale and this furbolg uprising quest I was heading back for. I decided to basically say fuck it and take a flight back. Now I'm back at Stardust Spire, and poised to start this uprising…
… next week.
Admiring Strangethorn While Killing Everything In It
I should have known when I chose Hunter that I'd be doing a lot of just that… hunting. Now I was in Strangethorn, there was an awful lot of game and many quest givers who wanted to see me murder it.
Of course, it wasn't all just wild beasts I was being tasked with killing, oh no. Some Venture Co goblins had tumbled stones that someone wanted, so I ran my way into that camp and began shooting any Geologists I saw, just to pick up enough for satisfy the quest. He did fix the pot I'd been given to take to him though, so I guess it's alright.
Oh, and also some people at the rebel camp wanted me to grab Bloodscalp items. Of course, trolls are Horde and Teddired is Alliance. They wouldn't just give me what they wanted… so I had to do even more killing.
Of course, this week wasn't all killing and murder. No – I had time to explore the jungle while running between quest areas hunting for animals or goblins or trolls. And honestly, some of the scenery was amazing… even if getting too close would have been dangerous and potentially deadly.
I also found myself with full bags a little bit too often, so I grabbed myself a gryphon flight back to Stormwind and then ran around trying to find a seller for more bags to fit into my bank slots so I could store some items I couldn't use now but might be able to later on.
Then I found someone I'd been keeping an eye out for since I got into the game wandering around Stormwind and… well…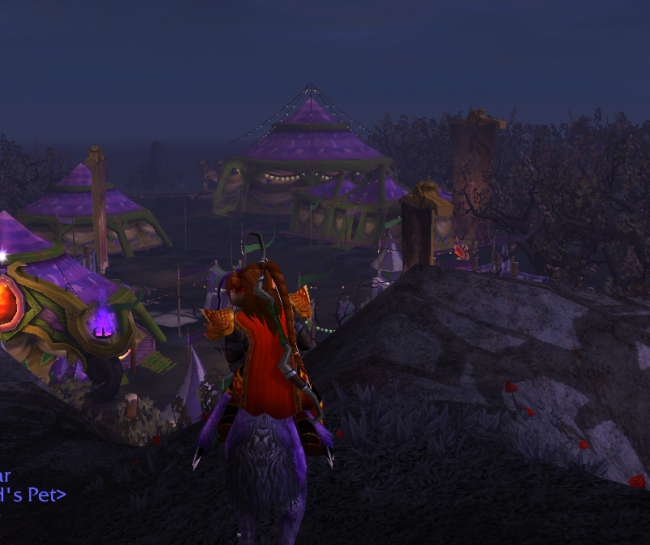 … I'm at the Faire! Woo!