Join me again as I update you on the adventures of my two Warcraft characters, and not only wrap things up for one but try to for the other.
Give Me Back My Raptor!!
Those of you who read my last player's diary will know that I reached the point in the Stranglethorn troll quests that I lost the Lashtail Hatchling I'd somehow adopted during my first quest in the area. You'll also know that I wasn't very happy about it. I was going to get her back, no matter what… nothing would stop me…
… except something was.
I had no choice but to leave. To train, become strong enough and then come back for her. Hopefully she'll remember me although I have a feeling that for drama I'll probably end up having to fight my own raptor… maybe even kill her. That would be sad and I hope to god that won't happen.
With that put on hold for now I ventured off for my next set of quests, crossing the cliffs over to the Cape of Stranglethorn.
My time was spent doing the usual sort of quests; finding things, killing things to find more things and so on. Then I was told of a 'sad' troll hiding behind one of the tents and speaking to her put me once again dealing with local trolls, more of the same group as the ones who had kidnapped my hatchling. After taking her quest and going towards the bat totem she told me to find, I activated the quest and suddenly I was a lot more familiar with the aerial creatures I'd been encountering along the way (and in some cases, shooting down).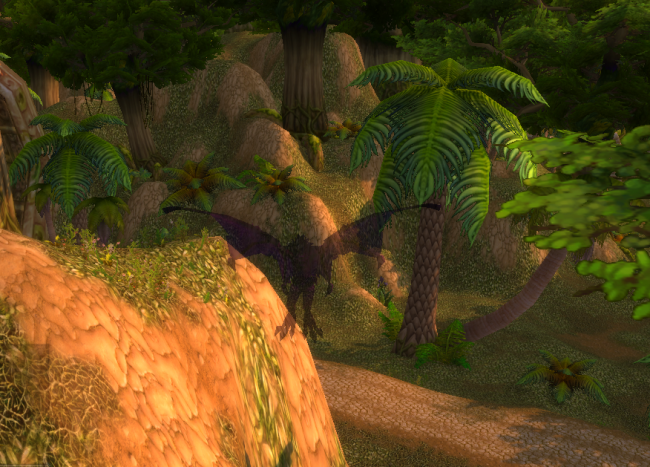 This was all in aid of spying on an outcast and seeing one of the same trolls who was holed up in Zul'Gurub there talking to him made me want even harder to go in and complete this questline. After all, it was likely that I'd have to kill some important people that he cared about right? At the very least, it was also in aid of stopping other terrible things they were doing so no one would have an issue with it.
Bringing the news back to the hidden troll, I was tasked with killing the outcast and that suited me just fine. I felt someone needed to pay for the kidnapping, so why not this one who was wanted for some weird revival ritual? I made my way down to the area I'd spied upon him, only to find that he'd already left before I could kill him. And left a portal wide open.
A portal into Zul'Gurub…
I had to go inside anyway to complete the quest and Zul'Gurub was where I wanted to go. Teddired'aka is still in there after all… Of course, inside I found myself restricted to linear paths as part of the questline and that was a shame. However, I did get to beat on the outcast and destroy the body of a powerful but dead troll priest. I'd have gotten two done, if someone hadn't interfered.
After that I was placed outside the place I wanted to be at. No raptor, only quest completion to show for it. With no more quests to finish in the area I moved on. Along the coast and found myself in the piratey settlement of Booty Bay.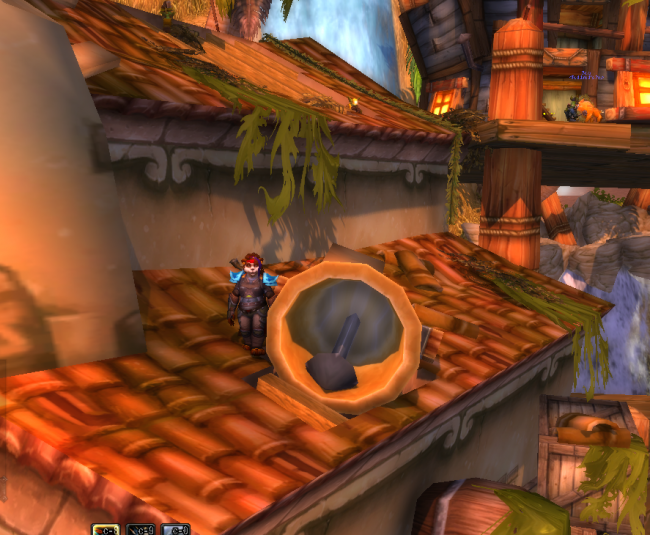 I might be still raptorless, but I will get her back. One day…
Finishing Up Ashenvale
So last week I had discovered that far from having finished all but one quest in Ashenvale before I went into Stonetalon, I'd actually got a few quest markers left on the map. I'd journeyed as far as I could to reveal an untouched corner of the map and helped the Night Elves set up new settlements and take on the Warsong who were logging the nearby area.
The quests took me all over the place, from taking on and defeating smaller parts of the Burning Legion demons who had come through…
… down to the burrow of Dar'danil where mad druid spirits haunted the once sacred halls and one lone sane ghost roamed forever in Cat Form.
After all this, I had one last task to do at the Warsong Lumber Camp, which involved a little Grand Theft Auto of the Warcraft variety… my god, that Shredder was a pain in the neck to aim blades with – especially the enemies who swarmed me and tried to destroy the vehicle when I needed to take it back to the camp to compete my mission!
Once I was done there, I ran along to the other quest markers and found that actually the majority of them were end-of-quest markers. Bar one dungeon run, I was done. It was time for me to head back to Stonetalon and continue the quests over there. I ran down to Mistfallon Post and picked up for next set of quests, as well as another new flight spot.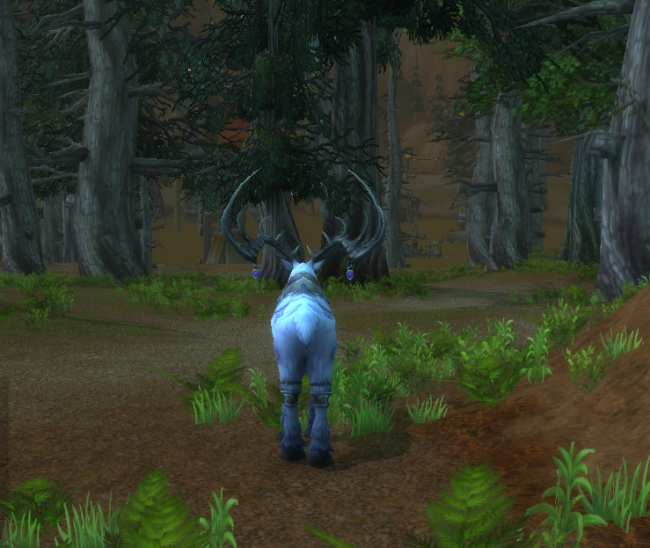 I feel like I'm gonna have some fun here, now that I don't have to worry about backtracking anymore.
Onwards to progress!