It's time for your weekly round-up of Kickstarter gaming campaigns that have caught my attention.
First though I will update you on some of the campaigns I've previously covered and this week the news is unfortunately mostly not that good. A lot are struggling to reach their goals, and one has even finished short of their target. Struggling right now are INTERSTELLAR ROGUE, Sons of the Void, Lost Cities and BLANK – all with less than 10 days to reach their goals and some with a lot less then that. As well as that one campaign has concluded unsuccessfully, Soul's Light now still in process but being slightly delayed by the failed campaign.
However there is also some good news. One campaign has not concluded successfully, with Forsaken Castle having reached its goal long before the end. Other campaigns doing well right now include Ashes of Creation, Kynseed and Trouble For Hire all of which have bypassed their funding goals. I can't wait to see all these games take shape in the future.
---
First up this week we're starting with a post-apocalyptic boardgame.
Badlands is a game for 2 to 4 players, set in a wasteland after an apocalyptic event. Each player controls post-nuclear survivors and has to help them survive through expeditions, trade, fending off enemies and other such tasks. Each game comes with 4 settlement area boards, a central badlands board in which play takes place and miniature player pieces. There are also cards and other things included to help with the actions that take place in the game.
Badlands: Outpost of Humanity has a €25,000 goal, of which it has made €12,926 with 24 more days to go.
---
Street Masters Rise of the Kingdom
Next we have another physical game, this time based off the beat 'em up genre of video game.
Street Masters is a game that is inspired by the likes of Street Fighter and its ilk, with about 65 different miniatures included the developers have tried to make a game that combines "the concept of a tactical combat board game with the flexibility of an intricate card game". The game includes two playable 'modes' – Arcade in which players can customise their own 'levels' as well as Story which will let you go through pre-planned scenarios.
Street Masters Rise of the Kingdom has made $35,863 of its $60,000 goal. It has 25 more days to run.
---
Third, I chose one that I usually wouldn't – a dating sim game.
Before you wonder, Two Scoops is a game I'd heard good things about previously. The game follows the protagonist as they start their new job at an ice cream palor. The game is a graphic novel as well as being a dating sim and your player character has only a week to prove they are capable of filling the shoes of two employees who are going away next week. With four romance options, there's a chance that they will all be fleshed out nicely to set the game above other dating sim games.
Two Scoops has 24 days to go, and has made $8,310 of its $25,000 goal.
---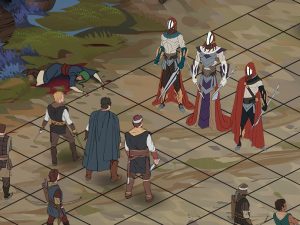 Finally we have a rogue-like with added PvP gameplay.
Ash of Gods is a game that is described as "a mix between a roguelike role-playing visual novel and an online turn-based strategy game" and will be coming to many platforms if all goes to plan. These will include Windows, Mac, Linux, XBOX, PlayStation®4, Nintendo Switch, Android and iOS, with PC being the one that the team is aiming for as being the first platform to release on. This means the game will be coming to Steam, DRM-free GOG, Humble – all of which are also listed.
Ash of Gods has made $19,895 of its $75,000 goal with 25 days to go.