I didn't get a good amount of time in the game this week, but I did make sure I did a little bit for both characters to advance their stories a little bit. This week I'm having to try and deal with another potential loss, this time for my other character and I also got something completely unexpected this week – a taste of what it must be like to have flying mounts.
Exploring The Cape Coast While Lost
Last week saw me leaving my Pandaren Hunter Teddired in Booty Bay after a realisation that the game wasn't going to let me recover my Lashtail Hatchling until much later. Much as I disliked it, I couldn't take back what was mine just yet. So I continued on with my quests and ended up in Booty Bay.
The only problem is, after collecting all the quests I could find… I didn't quite know how to leave again…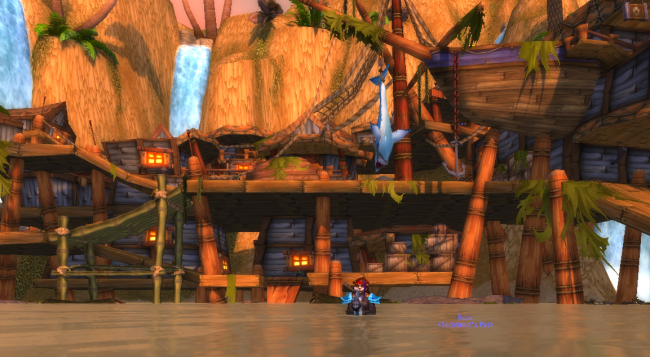 Booty Bay is impressive. I love the idea of all of that dwelling and shop and gathering built up the side of a cliff… but my god it was so easy to get lost in there. In case you're wondering how I managed to find my way in there I swam. It wasn't fast, but I had to find my way there however I could for the quest.
Eventually after finding a few more quests I'd missed I finally found the cave where I should have entered and left. Then promptly lost sight of where it was again. Oh well.
After collecting a few things for some of the quests I was making my way back down the coastline to make the long swim back, when I spotted a quest marker in the sand…
Someone needed help it seemed, and by chance they were on the isle just to my immediate right! I saddled up onto my Reaver and swam my way out to this jungle island filled with apes of all kinds and found… a Tauren princess?!
Well it seemed that despite the message she wasn't ready to leave quite yet, requiring a little clearing of the way first of the panthers nearby. I did this, using skills I utilised in past weeks to hunt down the panthers. Then, she said that a number of her items had been stolen by the apes and would I please retrieve them. I'm nothing if not helpful so…
Oh.
Oh, that's King Mukla.
Before I began playing World of Warcraft I played an awful lot of Blizzard's other game, Hearthstone. I'm familiar with King Mukla as a card…
And guess who's gonna have to fight him to free this Princess?
Bring it on!
Is This What It Feels Like To Fly?
So I left Bodeclaw outside of a Horde operation that was polluting the land. Well, as a Druid we weren't going to be tolerating any of that shit, oh no. And as usual everyone majorly concerned over it wanted me to be the one to do the actual dirty work of sabotage.
Murder is fine if it's for a cause right?
The Sludgewerks also held a gnome spy in disguise as a goblin. I was told that he knew where the information on a giant-ass Horde bomb I'd first seen in the questlines weeks back when I accidentally went too far into Stonetalon was headed. I wrapped up some other quests and made my way up to the tower where I was told I could find the book with the details. Once found I brought it back to him to read…
Danger looming and no time to lose, I hurried back to the camp where I'd picked up my quests, handed them in and made my way over to Battlescar Valley and Thal'darah Grove via computer-controlled flight. Once there I continued the quest and was given use of another hippogryph, expecting that as with similar missions the hippogryph would fly itself and I'd just be hitting the commands provided.  Only when I used the whistle and launched… it didn't move.
At least, not until I told it to go forward.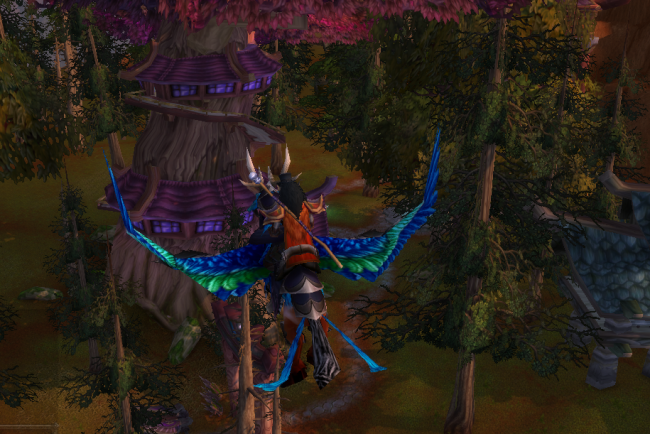 As flying mounts won't be unlocked for many levels yet (and neither will my Flight Form) I practiced a little bit on the back of this loaned mount, quickly picking up descending, moving and launching off the ground again. I enjoyed myself thoroughly but I had young Druids to rescue and so I did as I needed to… only to be a passenger on it again as we watched the bomb total the Grove – unable to stop them.
I was rewarded with a nice hat though, with actual stats unlike the top hat I'd been wearing since practically day one in game. I put it on and was a little unsure. It didn't look bad, but I was just so used to Bodeclaw's little top hat… I dunno. We'll see if I can let go of the appearance for the sake of stats.
On my way out to the next quest giver I found another two talking about an ancient evil tainting another nearby place and I decided to go do those quests instead while I was in the area. I ran down the path and…
Well shit. That's not good.