Another week has passed in WoW and I've progressed slightly more with both my alts. This week we found a place for Bodeclaw to feel very much like they belonged, and honour the noble sacrifice of a farm animal to a piratey cause.
I'm Pretty Sure This Is Racism…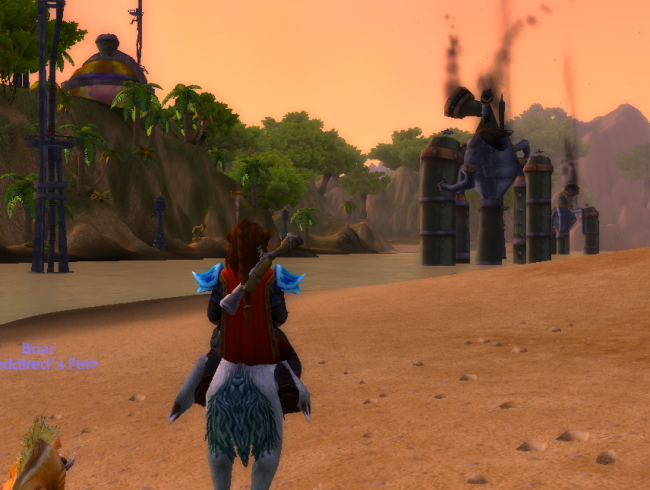 Sorting out the final bits of the quest for Princess Poobah was pretty easy truth be told. Run round the back of the island, find the biggest ape there (again) and kick Mukla's ass with the help of my ever trusty boar. The quest completed and the quest marker removed from my list and map (which is quickly becoming one of my favourite things to do), I mounted my Swift Springstrider (which again, is becoming one of my favourite mounts) and swam across back to the mainland coast to run up the beach and hand in more quests.
All I had to do now was try to find that cave entrance. I prepared myself for a long search…
Oh. Well that was easy. Should have listened to Lone when he said "Follow the main path."
Back in Booty Bay, I set about handing in various quests and learning my way around the levels a little bit better than I had the previous week. This involved a lot of running in and out of buildings and I had to go by paw, as atop my Springstrider I was too tall to fit in some doorways.
I encountered the cow in the second level of a building. At first I was very confused as to why it was here… then realised that downstairs was a leatherworkers. I very quickly left, eyes a little wider for that poor beast's future. (Yes I know, I've murdered many an animal over the last few months – they were quests okay?)
Eventually I found my way up to the top of the tavern and those in charge of Booty Bay. Thanks to my investigations in other questlines, it seems I was to help uncover a plot from the Bloodsails to attack and take over Booty Bay. I accepted the mission to abduct some documents from their encampment. But first I had to take a really good photo for video game confusion's sake…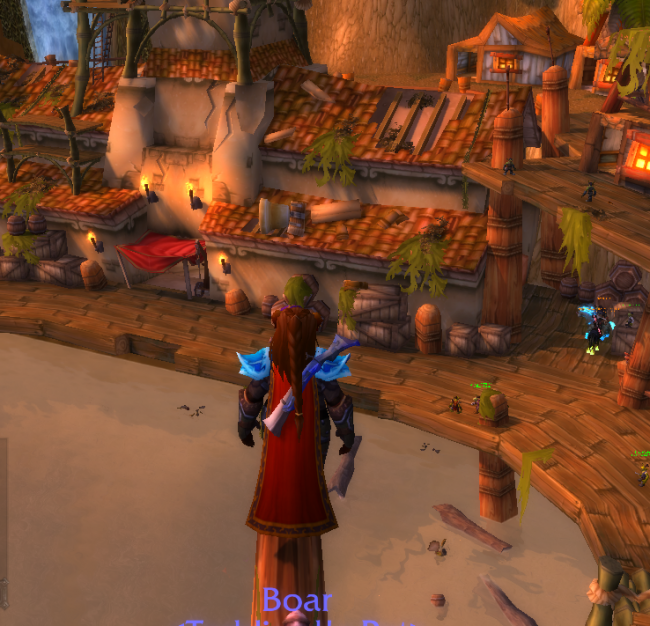 I'm so going to find as many Assassin's Creed spots as I can now. With both alts. Look forward to that in the future.
Anyway, I went along and stole the plans with a little elimination of pirates along the way. Well, they were attacking me and i had to defend myself. And my boar, who as we all know really adores me.
The questline then took me to the enemy crew's recruiter in an attempt to get an agent on the inside (why is it always me?)
Unfortunately it wouldn't be that easy. He demanded I bring him the head of the Sailsmaster in Booty Bay to prove my loyalty, as he'd heard rumours of a 'pandaren hunter' killing the Bloodsail's crew members. I returned to Booty Bay and spoke with the Tauren Sailsmaster. And he proposed a plan to pass a cow's head off as his own by jamming a large pirate's hat on it.
… Wait, a cow's head?
Brave farm animal, you gave your life willingly. I will not let you down and let the Bay be taken…
Wait, How Many Worgen Are Here?!
Bodeclaw found themselves on a journey down to a former druidic place to combat the corruption that had taken hold of it by releasing the souls of those taken over the the darkness. Oh, and to collect a sketchbook left behind.
Fortunately there were a lot of other guardians around, attempting to fight back the corruption but it'd taken a fairly firm grasp on the land around me. It was still natural looking, but so much darker and moodier… giant tentacles and flails writhed from the ground, slimes oozed around and fae dragons found buried in the ground…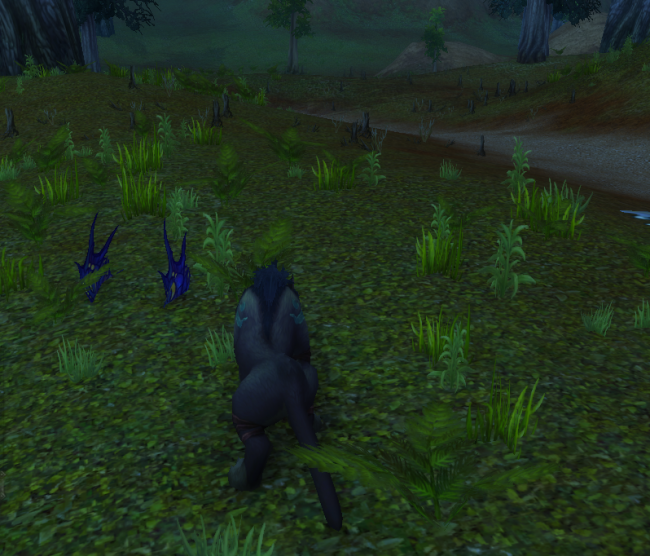 (Don't you love glitches?)
The quests I had to do here were fortunately over very quickly. I ducked in, defeated and claimed what I needed and raced back to hand in those quests. Neither one of the quest givers required me to go back in, and thus I continued on my way to Farwatcher's Glen. It wasn't that far away and sticking to the paths I got there pretty quickly. And discovered that for once I was not one of a few of my kind…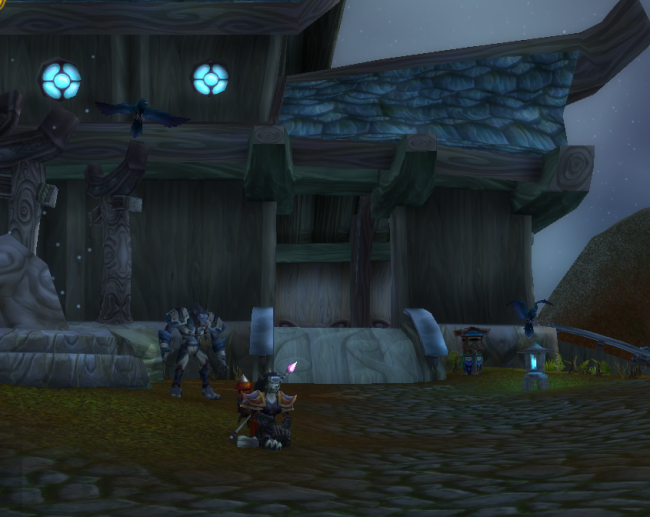 Farwatcher's had so many Worgens, with only a few of other races around. I immediately went and set my hearthstone to teleport me back to the inn here and set about collecting up the questlines in the area. I then went upstairs to sleep and discovered that I really needed to relearn pillow.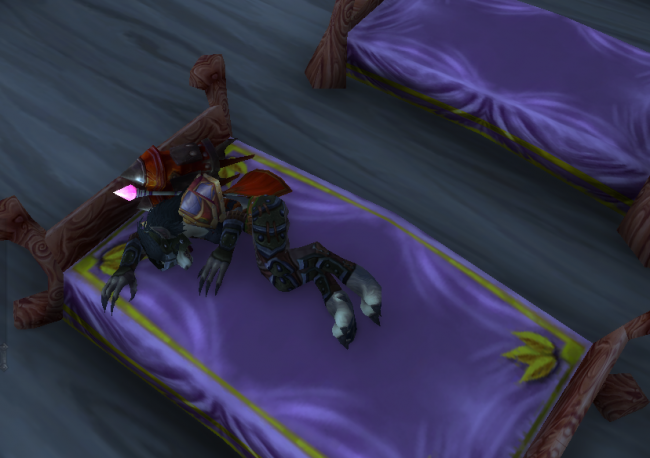 After a sleep I ventured down to the area a number of my quests required me to visit, the Charred Vale. I had been told there were Black Whelps in the area, and set about hunting them for one of the questlines given to me by a houndsmaster. I also saw Black Drakes but avoided them for the most part. I also had a jetpack to leap up the Vale and upon getting to the right area decided to use it…
I should have known. Where there's Whelps and Drakes, there be dragons too. And I know enough lore to know that the black dragonflight aren't exactly friendly, even without having to complete the next part of the quest which is to smash the black dragonflight eggs scattered around me…
Oh boy.