The joy of the prevalence of video games in recent times, is that it's easier to explain your niche to others. This made it especially easy to explain to strangers why I was dressed as a character from Overwatch on a busy Sunday train to Birmingham, as I made my way to EGX at the NEC. And, while I am a regular convention goer and equally an avid gamer I had never been to a games specific expo before.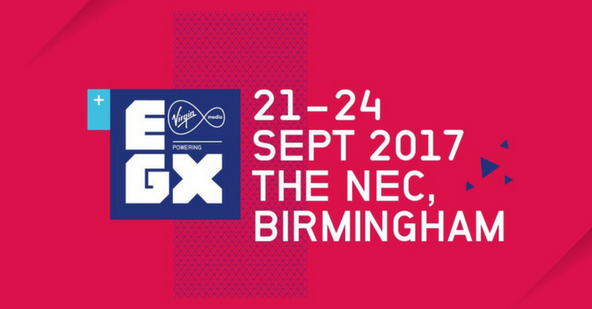 EGX is a mainstay for the big name gaming companies, with many demonstrations and presentations on new titles; regular Twitch streams by devs; cosplay competitions and merchandise on the floor. It has big draw for casual gamers, for families, and for industry professionals – and even for those looking for advice for how to make gaming their career. With all this in mind I was definitely expecting a busy day of exploring the expo floor and hopefully getting to try out some games in the process.
The upside was there was definitely plenty to see and do from a browsing standpoint. From the moment you walked in there were people handing out fliers and codes for promotions. The indie games area, EGX Rezzed, dominated the front zone even before you started to approach any of the larger name companies. I found this quite refreshing, as a demonstration of the importance of the indie market, and offered a great mix of games to play in genres ranging from very family friendly, to viral horror potential.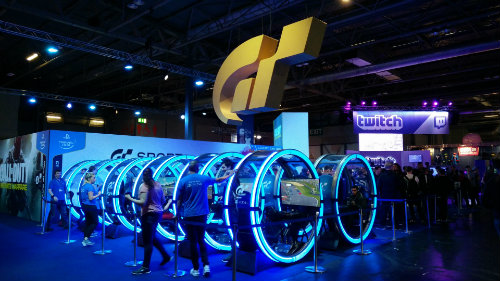 There were a good number of competitive gaming areas on show. This included the ESL E-Sports Arena; The Road to EGX Overwatch tournament; and a Street Fighter V tournament that had a raucous and excited crowd. It was great to see audience participation encouraged, as these areas had huge viewing screens that allowed folks to stand back and immerse themselves in the action, and to get behind the players throwing down – sometimes, quite literally – on screen.
Being present Sunday meant catching the tail-end of the various exciting panels that were available to attendees, but EGX had provided streams via Twitch the entire weekend and these could be caught up on through mobile even if it wasn't physically possible to get inside. These can also be watched back on the EGX YouTube channel and give a good insight into many of the games that were on parade as well as industry insights.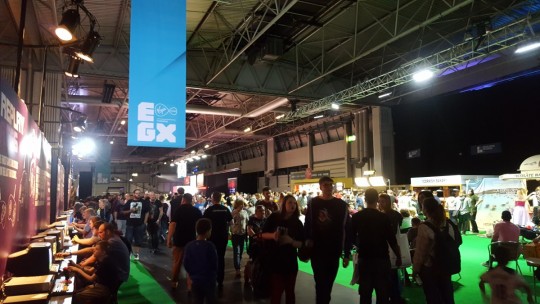 The biggest draw still came in the shape of the big names, with Sony, Microsoft, Ubisoft, Nintendo, Sega, Square Enix and Blizzard all having their own zones broken up over the expo. There were long waits for anyone who wanted a sneak peek at titles such as Farcry 5 or Assassin's Creed Origins, to learn more about recent releases like Destiny 2, or even to try their hands at Youtube phenomenons like PlayerUnknown Battlegrounds.
There were upsides and downsides throughout my time on the expo floor. The biggest obstacle I found as a casual con-goer was that when it came to trying things out I didn't get to see or do quite as much as I might've liked. Though the Indie Rezzed zone occupied most of the entrance area many games were only available on one or two screens at best.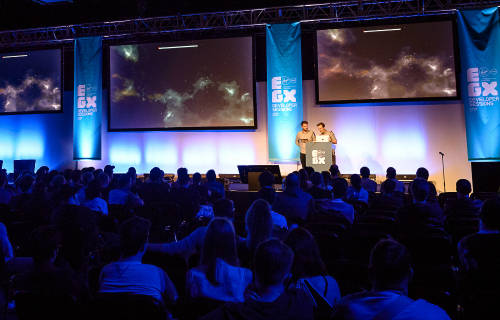 A prevalent theme throughout the whole expo was that there didn't seem to be many people enforcing rotation of players, either. On one occasion I came over to the Overwatch area after having been there an hour previous, and the same folks were still playing on many of the computers available. It made it much more evident to me why so many people make EGX a four day long event, in order to get as much gaming in as possible.
But where there was sometimes a lack of gaming there was still a lot of engagement. Representatives were generally happy to talk with con-goers. There was a cosplay stage in the centre of the convention where people could go and watch others that had turned their love of gaming into a creative outlet. There was some great merchandise available, from t-shirts to bags, figures to tech accessories.
Another great addition came in the form of a board gaming area, which had the Playopolis board game library working with EGX for the first time. They were providing games for visitors to sit together and play in the seating area. Some upcoming titles were demonstrating as well, including the MMORPG inspired City of Kings, were set out for folks who wanted physical gaming as well as digital gaming. There were some board gaming specialist vendors, too, making it just as easy to take the same experiences home with you.
All in all, I found my first experience of EGX a fun one, with most of the hiccups I encountered ones that could be easily rectified with a little pre-planning, or even spending a longer time at the convention over its four day length. And, with the joyous prevalence of video games in recent times, who knows – it may be even bigger and better than ever the next time it rolls around.
And with that…