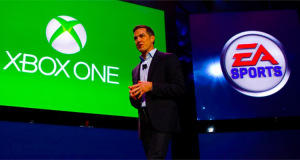 Following rumours earlier today that Microsoft is said to have an interest in acquiring several gaming-related businesses, Polygon has asserted that a "Reliable source close to Microsoft" believes that the Xbox One platform-holder is actually genuinely considering one such acquisition.
Earlier today, Twitter was awash in rumours suggesting Microsoft, perhaps fuelled by the fact that the Xbox One has found itself lacking in console exclusives, was potentially considering making purchase offers to three companies: Valve, PUBG Corp (the people behind Playerunknown's Battlegrounds), and Electronic Arts – commonly known as EA. Polygon's sources believe that the EA rumour is indeed true – that Microsoft is definitely in serious thought about the move, with the other two suggestions also being "whispered".
Although Xbox One owners can anticipate exclusive releases this year in the form of Sea of Thieves (currently in a closed beta phase), Crackdown 3 and State of Decay 2, this small amount of confirmed titles pales in comparison to major rival Sony's Playstation 4 line-up, which alongside a remake of Shadow of the Colossus, currently also lists exclusive such as Days Gone, Death Stranding, Detroit: Become Human, God of War, Spider-man and The Last of Us Part II. An aquisition of EA would bring many important franchises to the XBox One – although many of the bigger franchises, such as FIFA, Battlefield and the upcoming Anthem, are currently cross-console and Microsoft is likely to cause uproar were they to change the status quo.
The lack of exclusive content for the XBox One, however, is very likely to be weighing on Microsoft's mind. Sony's Playstation 4 has so far dominated this generation of console sales, with over 73 million sold to date; Microsoft, meanwhile, is believed to have only shifted around half this number of XBox Ones although the company refuses to disclose actual sales figures.
Further fuelling the rumours is Phil Spencer's apparent appetite for an acquisition. Spencer, who was promoted to Executive Vice-President of Gaming late last year, is on record as having stated the following in an interview with Bloomberg:
"Our ability to go create content has to be one of our strengths. We haven't always invested at the same level. We've gone through ups and downs in the investment."
So what do you think? Do you think a potential acquisition offer is on the cards? Let us know in the comments!