Enter the Aperture Science Enrichment Center and experience Bridge Constructor Portal – the unique merging of the classic Portal™ and Bridge Constructor™ games.
Deep within the test chambers of Aperture Science, a new branch of research and development is initiated. Welcome, Trainee, to Bridge Constructor: Portal.
From developers, ClockStone Studio, and published by HeadUp Games, comes a new addition to the puzzle-based universe of Portal.
The task is simple enough. Build a bridge to guide forklifts, transporting obviously important Aperture Science Sciencing Materials, from a starting position, to an end position.
The challenge comes from an increasingly abstract level layout, alternating start and end positions, adversarial gun turrets, and of course, the iconic portals.
The level progression moves at a comfortable pace, which provides a good opportunity to practice each time a new element is added to the game.
There are 60 test chambers to work your way through, with two levels of challenge; build a construct that will handle a single truck, or put your engineering abilities to the test, and successfully help a convoy of trucks traverse the chamber!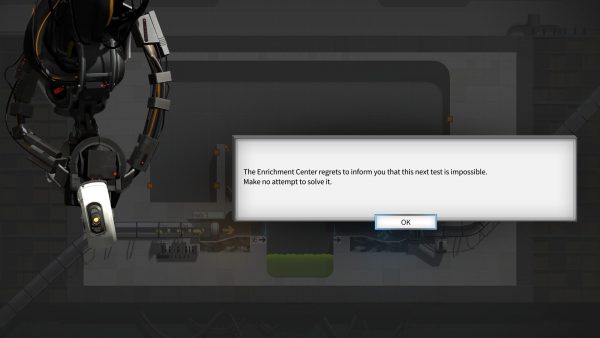 A vaguely wobbly bridge might suffice for a single truck, but that wobble might throw off the trajectory of the third driver of the convoy, or there might be insufficient support in your build, and the whole thing might come crashing down; sending you straight back to the drawing board!
Aesthetically, the game takes much of it's style from the Aperture Science infomercials that introduced new mechanics in Portal 2, and it adds a unique charm to the game that instantly makes you feel like you're back in the Aperture testing chambers.
Tutorial assistance, and comments from GLaDOS further add to the game's appeal.
The user interface is minimalistic, yet incredibly functional, with controls that are easy to master, and in the main menu, there is a section for additional tips to improve your constructions.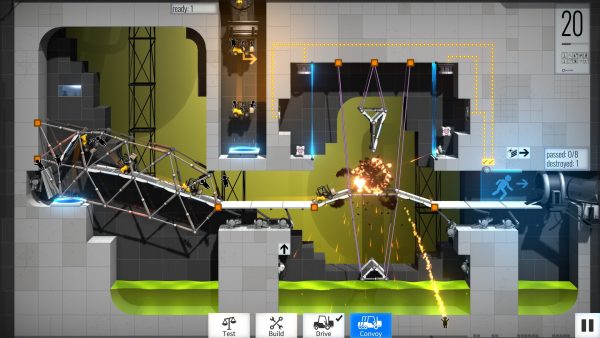 Available on Steam, Mac, PS4, XBox One, Switch, and Mobile devices; Bridge Constructor: Portal is a well-designed, easily accessible, and ingenious little game, full of charm, and challenge, that is well worth checking out if you enjoy physics puzzles, or are a fan of the games that preceded this one.
It's a perfect blend of the Bridge Constructor series, and the unique sci-fi world of Portal!
Bridge Constructor: Portal is available now on –
STEAM
– https://store.steampowered.com/app/684410/Bridge_Constructor_Portal/
Playstation 4
– https://store.playstation.com/en-us/product/UP0825-CUSA09729_00-BRIDPORPS4SCEA00
XBox One
– https://www.microsoft.com/en-gb/store/p/bridge-constructor-portal/bnrx1dn6gxm6
Switch
– https://www.nintendo.co.uk/Games/Nintendo-Switch-download-software/Bridge-Constructor-Portal-1342894.html
Just remember that the cake, and the bridge, is a lie.
8.5/10 ~Captain Meatshield