Relentless rogue-like shooter/brawler coming soon to a host near you. SNATCH, ZAP and REPEAT your way through a dystopian 1980's as a mysterious organism bent on world domination.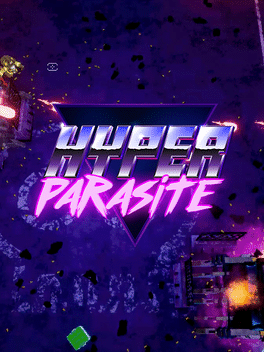 Troglobytes games' HyperParasite is a top down twin stick shooter with a twist.
The first thing people will notice about HyperParasite is probably the obvious homage to the 80's, the game looks like it was dunked in a tank of 80's neon sheen, the soundtrack is full of awesome 80's inspired dark synthwave, and the whole concept of the post apocalypse filled with various themed gangs (which isn't exactly what the game is, but with character classes being very specific and appearing together a lot in waves it does have a slight Warriors vibe).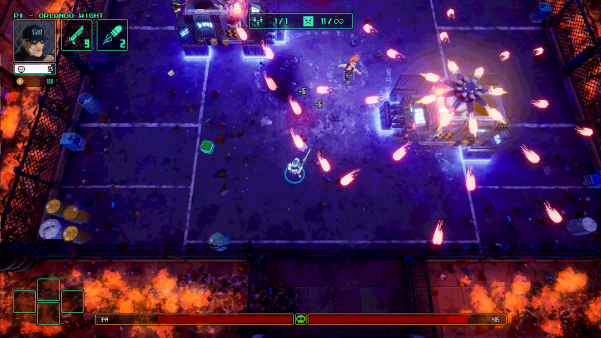 So gameplay wise, you play as the titular HyperParasite, a mass of shadowy smoke like tentacles, the Parasite has the ability to move around freely, dash (which can be used to avoid attacks and to smash various objects), and a tentacle swipe (and here is where the gameplay twist comes in) the tentacle swipe is used to infect your enemies and hijack their bodies, the effect of this is twofold, not only do you used them as a literal human shield to protect your fragile parasitic lack of a body, but you also get to use their strengths, each enemy has their own attack, special and stats, generally a melee character will be stronger and have a higher amount of hit points, while a ranged character will be weaker and survive fewer hits with the trade off of being able avoid more damage while on the run and still scoring hits.
Outside of the two main classes, each enemy character has their own playstyle, cops are ranged and can fire their pistol with moderate strength straight in the direction you are facing they also have a clip limit so they need to reload once their shots are spent, whereas the paper girl, while also a ranged unit throws two newspapers that do low damage and split out in a small V formation in the direction you are facing, they also have unlimited papers so no need to reload or watch your clip count, similarly melee characters will have different range and damage to their attacks that you will need to take into consideration when selecting a host for your parasite.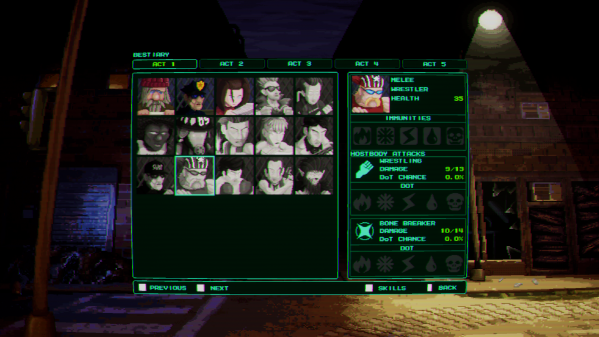 Now what if you are surrounded by units you don't like? Should you stay as the parasite? Well no, it's never really a good idea to stay as the parasite because it's super squishy, and at any point if you see a better unit you can destroy your current host and snag them, assuming they don't destroy you before you grab them, you also have the choice of throwing a potential host at your enemies instead of taking them if you grab the wrong one by mistake, using them as a decently strong ranged attack.
Each run you do is procedurally generated, and the waves of enemies are randomised as well, so it's more about quick reactions and luck than planning things out, some areas will have things like barrels and cars strewn about as well, some of these contain nothing, others have pickups, mostly in the form of money which can be used to purchase upgrades if you find a store, and the rest of them blow up, prior to blowing up you will see a ring which indicated the area of effect the explosion will cover, so you can know how far to move to avoid it, and if you are lucky and skilful enough you can also lure enemies in to feel the effects of the blast.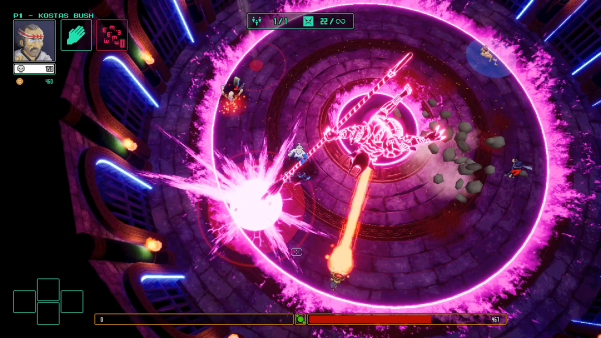 Some certain enemies also allow you to take their DNA after you defeat them, this can be used to power up your parasite and make it more formidable, and with roguelike elements, you can gain power ups that will apply to future runs, making things easier for subsequent attempts, which would be helpful as I found the difficulty even in the first area very hard to overcome.
Overall the game is well made, with a winning art style, music and over all feel, the replayability is high, with some runs going well enough to think, I'm going to take another shot and see if I can push it further, and other runs ending so quickly that you think, that was a mulligan, one more try, the game is still also in pre-alpha at the time of this review so they have time to add more and balance the difficulty if it turns out I'm not alone in being absolutely destroyed.
HyperParasite is available now in Early Access on STEAM, and coming soon to XBox One and Nintendo Switch
Early Access rating 7/10.
~Sirhc