A disbanded group of superheroes reunites after their adoptive father, who trained them to save the world, dies.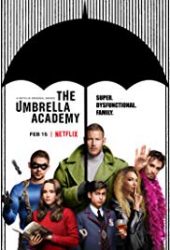 I will be the first to hold my hands up and say that seeing the trailer to The Umbrella Academy initially left me feeling a bit cold. The opening to the trailer left me expecting a terrible mix of Harry Potter and Slaughterhouse Rulez (the latter being one of the worst films I've ever seen). I was proven wrong by several people who personally recommended it to me, plus the improved second half of the trailer sold it for me. Based on the comics books of the same name by Gerard Way and Gabriel Bá, the adaptation was originally planned as a film in 2011, but it wasn't until 2017 when the project was approved for a television series by Netflix.
We begin in 1989, when on the 1st October, 43 women from all over the world gave birth, but none of them experienced a pregnancy prior to this day. At the news of this phenomenon, Sir Reginald Hargreeves (Colm Feore), an eccentric billionaire, made it his mission to adopt as many of the babies as he could. In the end, he formed a family of seven children who he raised as an elite group of superheroes. We're introduced to the siblings in the present day as they discover that their father has died, which is where we quickly learn that his funeral is not only the reunion of the brothers and sisters, but the beginning of many questions for both the characters and the viewer about who he really was and how he died.
The timeline goes back and forth as we understand the dysfunctional family within The Umbrella Academy from youth to present day, teasing at the individual tales of the people only known to their father by numbers rather than names. One (Luther (Tom Hopper)) has super strength, Two (Diego (David Castañeda)) can control the trajectory of thrown objects, Three (Allison (Emmy Raver-Lampman)) can turn lies into reality, Four (Klaus (Robert Sheehan)) can talk to the dead and Five (known as Five or The Boy (Aidan Gallagher)) can time travel. Five's power is significant to the story and he has foreseen that the end of the world is days away. Six (Ben (Justin H. Min)) is deceased and we know very little about him other than Klaus can still communicate with him beyond the grave. Finally, Seven (Vanya (Ellen Page)) appears to have no power. Her father's continuous reminders of this and encouraged isolation from her siblings leaves her as a shadow compared to them. Little does she know, that she has more to give than anyone… and more to take way for that matter.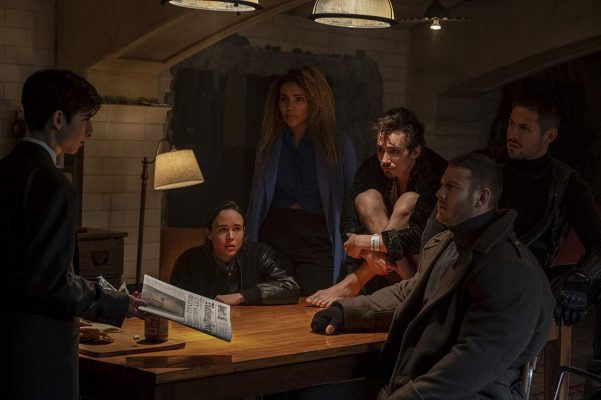 The casting is strong, featuring familiar faces such as Ellen Page and Tom Hopper to name a few. Other than occasional rusty combat scene, no one disappoints.  Even Mary J. Blige as Cha-cha, an assassin sent to find Number Five is a nice surprise as she proves to be a capable actress in yet another genre.
At ten episodes, it's certainly not a big commitment, but in all honesty, I believe the story could have been told in eight or nine if it shortened some of the many flashbacks, such as the tragic life and times of Leonard Peabody and why he's so invested in Vanya. Having said that, if these things are rushed, maybe we would be left with too many unnecessary questions. The finale was a tad far-fetched (but when was the apocalypse ever anything other than far-fetched?) and I didn't feel quite as invested in it as I hoped, but it's still worth watching for the explosive CGI and that punchy soundtrack to pull it all together like any superhero production should. Without completely ruining it for you, season two is certainly an option if Number Five's got anything to do with it. It would also help if Netflix gives a second season the unconfirmed (but likely) green light.
Sometimes the superhero genre can be isolating, bringing a world to the screen just for the people that appreciate their comic book origins. It's totally understandable; the fanbase are some of the most loyal, enthusiastic followers you can find, so they should be valued and shown gratitude with strong storytelling and attention to detail. The Umbrella Academy however is a welcomed exception for people like me, who with minimal experience of comic books, felt included and informed throughout the series. The plot was understandable despite the several branches to it and the general strangeness of the situation they're in, so if you're looking for a refreshing take on superheroes that offers a more inclusive approach, The Umbrella Academy might just work for you. It's not perfect, but the show is about flaws and how despite them, we can overcome, so it's good enough for me.
Check out the trailer, see what you think –

Umbrella Academy Is a New Class of Superhero Story and a solid 8 out of 10
~Gemma