Satisfactory is a first-person open-world factory building game with a dash of exploration and combat. Pioneering for FICSIT Incorporated means charting and exploiting an alien planet, battling alien lifeforms, creating multi-story factories, entering conveyor belt heaven, automating vehicles, and researching new technologies.
Satisfactory is satisfying and out now in Early Access from Coffee Stain studios, the same studio responsible for "Sanctum" and "Goat Simulator".
Satisfactory is a survival game about exploring an alien planet, taking its resources and building massive factories. It is one part survival and exploration game and one part factory sim. The game is satisfying to say the least.
I decided to choose the first starting area offered of the three biomes, a grass land with plenty of flat land to build on and a decent amount of resources but long distances of travel.
The other two biomes were a lush forest with plenty of biomass (used to make power and fuel) but few building opportunities and a rocky desert with a mix of the two but little biomass.
The game launched into early access with –
• 6 tiers full of milestones that unlocks machines, resources, equipment and vehicles
• 3 different starting areas/biomes on a large handcrafted world (30km2)
• Vehicles with automation capabilities
• Equipment and weapons
• Alien creatures
• Multiplayer
With the following coming as the game reaches full release:
• The rest of the FICSIT milestones and tiers
• More machines, resources, vehicles, equipment and weapons
• Improvements on core gameplay, systems, UI/UX, Quality of Life
• Iterate on world, exploration, landmarks, rewards and creatures
• Full narrative
• More optimization
• Dedicated server support
• Mod support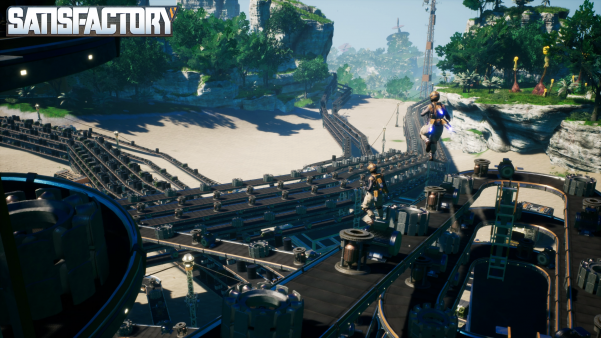 My first game session started out as many survival games, stranded alone somewhere with nothing and you have to gather resources and craft what you need as you go.
After about 30 to 45 minutes I had the start of an automated factory going. After two hours though, I had miners set up gathering an endless supply of copper and iron ore, feeding it onto conveyor belts and into my smelters & to be turned into ingots, then further down the assembly line they would be turned into other building resources I needed to further automate things.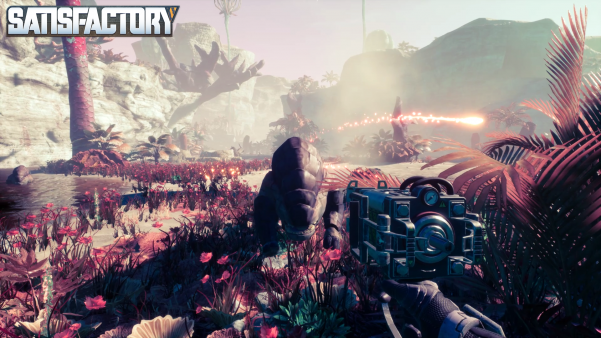 The game has a simple gameplay loop that is easy for me to lose my self in and it can be relaxing while trying to solve logistic problems such as how to get resources from point A, at the top of a mountain, to point B far below and away the most efficient way possible. This is the core of the game.
It takes time to get really built up, two days in and I am still working on getting my factory running and unlocking milestones, this games progression system. Milestone can be thought of as levels with in each tier that give you blueprints and upgrades. it is very simple and helps to give the player guidance towards what to while building the factory.
If I had to rate the game in its current early access state I would give it a 5 out of 10, but, as it's an early access title and many features, such as the narrative & several tiers of upgrades and buildings, are simply are not in yet and early access is expected to last at least a year.
Check out my first look preview video below for a better idea –

Satisfactory is one to watch for gamers interested in this style of game or newcomers looking for something different but fun.
Want to play youtself and support the developer in Early Access, or just wishlist for later, head over to the Epic Game Store page or the games website