When a new toy called "Forky" joins Woody and the gang, a road trip alongside old and new friends reveals how big the world can be for a toy.
2019 is, without a doubt, a huge year for film. We've had the big guns of action so far in 'Captain Marvel' and 'Avengers: Endgame', but one of the most anticipated films of the year comes in the form of Pixar's Toy Story 4.
With a 25 year history, many of us have grown up with the franchise, so while younger generations are barely getting started with the films, millions of kidults are saying a sad goodbye as the 4th instalment brings the tale of Buzz (Tim Allen) and Woody (Tom Hanks) to a close. Admittedly, some audiences queried the point of the 4th film years before release; as Toy Story 3 rounded up pretty well, with Andy handing over his childhood buddies to Bonnie. However, I wasn't disappointed in Toy Story 4. In fact, my disappointment lies in the fact that it has ended. Although producers have said "never say never", it doesn't seem like there are any plans for a fifth instalment.
Following the intro about what happened to Bo Peep (Annie Potts) in the last film, Bonnie has started school. Struggling to make friends, Bonnie (unknowingly helped by Woody, who feels he doesn't have a purpose any more- deep) makes a new friend from a spork. Forky is voiced by Tony Hale, famous for the fantastic, noughties hit-show Arrested Development (if we pretend season 4 and 5 didn't happen). In fact, if the coddled, anxious and naive Buster Bluth was reincarnated, he would come back as talking plastic cutlery for sure. Forky is one of the best new characters we've seen since cowgirl Jessie (Joan Cusack) joined the gang. He causes much of the chaos in the film as Woody tries to keep him safe despite frequent attempts to run away and put himself in the trash. Woody's desperation to be needed is depressing, but integral to the plot and the reason he keeps stopping Forky from ditching Bonnie.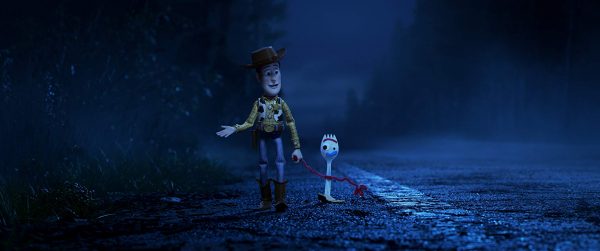 During a family RV trip, Woody becomes separated from the gang after Forky makes a quick dash from the moving van (as you do). During their trip back to the RV, Woody discovers long-lost Bo Beep's lamp in the window of a local antique store. Whilst looking for Bo, Woody becomes the prey of a vintage doll, Gaby Gaby (Christina Hendricks), who wants his voice box to fix her faulty one so someone will finally love her. While Gaby Gaby is feeling her Soprano realness in her villainous state, her identical ventriloquist dummy henchmen are the entourage from hell. In truth, they make Annabelle and Chucky look like the cast of Sesame Street. For a kids film, they are surprisingly messed up.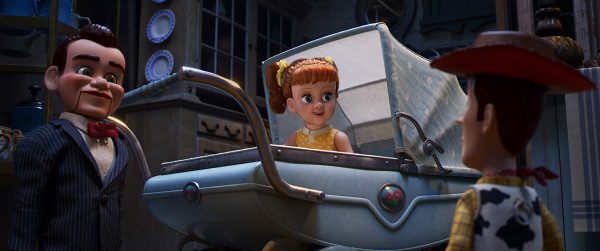 Throughout the film, there's a lot of back and forth chases, from Woody avoiding those horrid dummies to Bo saving everybody all the time, whilst Buzz and Jessie trying to stall Bonnie's parents from leaving the RV camp. There's a lot going on, drumming out all of the humour and drama that we've come to love from the franchise. Lots of new characters all contribute to the story. This includes Duke Caboom (Keanu Reeves), the daredevil motorcycle stunt doll who crashes better than anyone in the vintage toy market. Call me harsh, but this is the most personality I've ever witnessed from Reeves in any role and it works.
I absolutely loved this film. By the fourth film, most franchises are so terrible that we watch them for a cheap laugh, but Toy Story 4 is just as relevant and funny as ever. It's kept up with the times, offers morals for the kids, and nostalgia for the rest of us. My only criticism is that most of the original characters get a lot less screen time than before. However, it makes sense to the story and with reliance on archives to voice Mr Potato Head (Don Rickles died in 2017), it would have been a struggle to include him without finding a new actor. How can you replace that voice? Not easily.
Expect to feel emotionally damaged by the ending, enjoy the endless supply of satisfying Easter eggs and make sure you stay for the credits for more hilarity.
It's 10/10 from me.