This is a
blog post
. To read the original post, please
click here »
Time for the weekly look into what's happening in the world of Kickstarter gaming campaigns.
First as always, an update on previously covered campaigns and we have a fair mix of both good and bad news this week. Starting with the bad, we don't have any campaigns that have concluded without having met target, but we do have a number of them running out of time with a lot of funding to make up. These are
Soul's Light
and
INTERSTELLAR ROGUE
, both with a decent amount to make up, 4 days and 9 days to do it in respectively.
Trouble For Hire
is also running out of time, but is a lot closer to goal so could end up reaching its target in the last few days. It has another 7, so we'll see.
On the other side of the story, a few campaigns have finished a success. These are
OtterBash!
and
Q-YO BLASTER
, with another campaign,
Forsaken Castle
, due to wrap up in less than 2 days having more than doubled its goal. Two other campaigns have reached their targets too, although they still have time to run. These are two from last week,
Kynseed
and
spaceBOUND
.
BLANK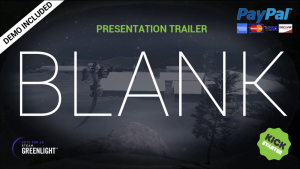 First up we have a game set in the near future, in the midst of a new Ice Age.
You play as Edward Jones, a man sentenced to life for the murder of his wife. The game is a first-person viewpoint game, in which you as Edward need to learn to acclimatize and survive the harsh wintery landscape you have been sent to as part of your punishment. You have been sent as part of the government's ongoing mission to determine the reasons behind the climate change and the increase in radioactivity in the area.
BLANK has a €5,000 goal of which it has made €800 so far. It has a further 16 days to run.
Abstract Arena
Next up we have a 2D shooter game.
Abstract Arena is set in an abstract-themed artstyle world, as the name suggests. The game is described as "a top-down action-shooter game" in which there up to six different 'shape' ships can fight at once. Each different 'shape' has abilities that are unique to it as well as those abilities that they all share. There are many different features listed on the campaign page including 12 different gadget to use, free-for-all and team based matches, LAN play or local split-screen multiplayer and full support for x360-like controllers.
Abstract Arena has made €70.88 of its €300 goal and has 18 more days to run.
Fake News!
Next up, we have a re-launch of a campaign I
previously covered
just under two months back.
Fake News! is the rebranded
Lizard People
game, and the concept is much the same. This is a card game for 3-7 people in which you have to use your hand of cards to form the best fake news headline you can and impress the player who is the 'editor' at that time. The one that impresses most gets the point and 'trends' on social media. The player that reaches 5 trending headlines first wins!
Fake News has 18 more days to run and has made $2,102 of its $15,000 goal.
Lost Cities
Finally we have a digital edition of a card game.
Lost Cities is a game by Reiner Knizia, and will be coming to Windows, Linux and Mac with a success here. The game is about explorers on expeditions to discover lost cities and other related finds. You place bets on expeditions and how successful they will be. After three rounds of adventuring, the player who has had the most success will win. You will be able to play against the AI or actual players, with gameplay continuing even if your opponent is currently offline.
Lost Cities has a goal of $3,000 of which it has made $339, with a further 16 days to go.
_________________
Yes that's Minecraft-me in my av. Done by Reiu who is damn talented!