This is a
blog post
. To read the original post, please
click here »
It's time again for the weekly look into gaming Kickstarter campaigns, picking out a few that look interesting.
Our catch-up first with the previously covered Kickstarters brings an awful lot of good news this week. Most of the good news consists of campaigns that haven't yet concluded but have either bypassed their targets or are pretty near reaching it. One campaign has also concluded successfully, and that one is
Hellpoint
. The other campaigns doing well are
OtterBash!
,
Ashes of Creation
,
Forsaken Castle
and
Q-YO BLASTER
.
However, there is one bit of bad news and that is a campaign that has finished having failed. This is
The Unique Adventure
, and there are no updates to talk about so it's unsure whether this will be a continued project.
Project Rap-Rabbit
First we have a project that's received a lot of media coverage already.
Project Rap-Rabbit is a game from the creators of PaRappa The Rapper and Gitaroo Man, coming together for a new rhythm-action adventure with story and more. The title is coming to PC and Playstation 4, and apparently had taken inspiration from the epic Rap Battles of History Youtube series to bring rap-inspired battle face-offs to the game. It has a lot of Japanese lore elements in there too, and 'Project Rap-Rabbit' will not be the final title of the game.
Project Rap-Rabbit has a £855,000 goal of which it has made £55,349 so far, with 35 more days to go.
spaceBOUND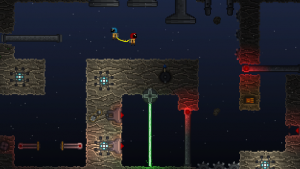 Next we have a puzzle-platformer... in SPACE!
spaceBOUND aims to add some twists to the puzzle-platformer genre. The game is a co-operative title, and because it's set in space zero-gravity plays a part in the game. Two players play as astronauts bound together by a tether and having to work together to solve puzzles and explore the asteroid they are on. The co-op is both local and a direct connect online co-op so you can play with your friends all over the world.
spaceBOUND has a target of $1,000. It has 29 days to go, and has made $858.
The End Is Nahual: If I May Say So
Next up we have a point and click game with quite a title.
The End Is Nahual is described in the campaign's sub-header as "a point & click game, full of minigames, action, bad puns and Mighty Pianos with existential problems." So just your regular game then. You play as a character Jacob, described as the 'antagonist' as well as the 'antagonist of the antagonist, Sammael'. During the game you will meet up with a bunch of characters who can help or hinder you, and play through mini-games.
The End Is Nahual has 26 days to go, and has made MX$ 43,040 of its MX$ 650,000 goal.
The Salt Fortress
Finally we have a game set inside of a cathedral.
A game focused on ambiance, the game is full of exploration and fighting as gameplay mechanics. Another point-and-click, you led your character through this dark and somewhat unholy building, exploring the rooms and finding items to help you make your way through it... and maybe even discovering secrets along the way. According the the campaign page the game is "centred on its atmosphere, visual narration and mystery."
The Salt Fortress has made €249 of its €5,000 goal and has 29 days to go.
_________________
Yes that's Minecraft-me in my av. Done by Reiu who is damn talented!