This is a
blog post
. To read the original post, please
click here »
In today's stranger news, a lorry has been stolen. Not just any lorry though, a lorry containing stock of the new Splatoon game as well as various associated Amiibo figurines that was on its way to GAME's UK warehouse. No really.
The lorry had been on a journey from Nintendo's European headquarters towards the warehouse, and what makes this theft all the more noticeable is that among copies of the standard game and standard Amiibo figurines were a sizeable number of the Special Edition copies of the game. In fact, GAME's
entire shipment
of the Special Edition was in that lorry. That's a pretty hefty theft.
GAME has now had to send out notifications to all customers who had pre-ordered the Special Edition to inform them of the situation and how because all of the allotted shipment was taken they are unfortunately unable to substitute the missing copies with other Special Edition games.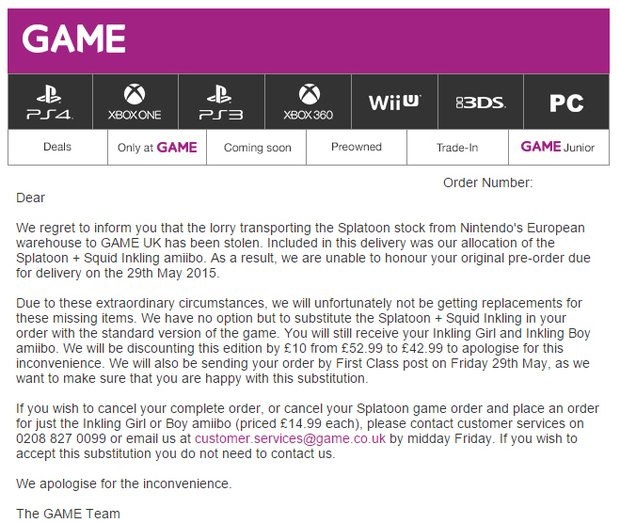 "We have no option but to substitute the Splatoon + Squid Inkling in your order with the standard version of the game. "You will still receive your Inkling Girl and Inkling Boy Amiibo. We will be discounting this edition by £10 from £52.99 to £42.99 to apologise for this inconvenience."
No details have been made public about the circumstances around how the vehicle was taken, but Nintendo have told GamesRadar+ in a statement that they are working with GAME to contact all affected customers and apologised for the inconvenience caused to them as a result of the theft.
Dare say a lot of special games might soon make their way onto Ebay or into CEX...
_________________
Yes that's Minecraft-me in my av. Done by Reiu who is damn talented!