This is a
blog post
. To read the original post, please
click here »
After last year's fiasco over the Skyrim Paid Mods idea, Valve decided that the time would be ripe to give the idea another go. However, this time they chose to do it through Dota 2 - one of their own properties and only through custom game modes which meant that an awful lot of the worries expressed last time would no longer be such a problem. However, it seems that one of the big issues last time  - mod makers 'borrowing' content off other makers - can still rear its ugly head.
The system was launched last week and within 48 hours it was discovered that one of the most popular modes added, Roshpit Champions, was using assets from other users and even Blizzard without permission. Itme models and icons have been traced back as matches to potential in-game cosmetics submitted by other members of the community for Valve's approval, and the icon for crusader_boots is taken from a screencap of Darion and Alexandros Morgaine's boots, characters in World of Warcraft.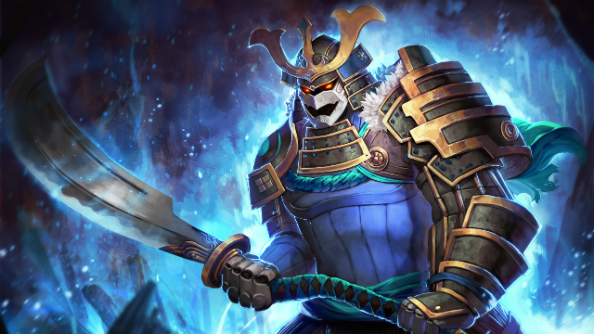 The Reddit thread pointing this out has the mode's maker, Ryan 'ChalkyBrush' Racioppo, attempted to defend his use of the other Workshop users' content by saying that he had taken from the yet-to-be-approved voting queue: "Anything submitted to the workshop is Valve's property and can therefore be used in Valve's game. Roshpit Champions is subject to the same rules, making the game also a property of Valve's." He also defended the use of crusader_boots icon by saying "I didn't think a low-res screencap of a screencap would be an issue. The picture is awful anyway and probably needs a replacement. Does blizzard [sic] care though? In the end, Blizzard is the only one with the right to complain about this low quality image existing in this little sub-realm of Dota 2."
Luckily for Valve, Racioppo has since changed his stance, removing all the problematic assets from his mode in an update and apologising: "I want to apologize to all the artists who I did not consult in using their amazing works. They spend hours pouring their hearts into this creative content and it is unfair to showcase them within Roshpit Champions with no credit to them."
Of course, the rules governing such things are clearly stated in the agreement made for those creating Workshop content: "With respect to Workshop Contributions, you represent and warrant that the Workshop Contribution was originally created by you (or, with respect to a Workshop Contribution to which others contributed besides you, by you and the other contributors, and in such case that you have the right to submit such Workshop Contribution on behalf of those other contributors)."
Of course, it's possible that Valve has intervened behind the scenes to make this happen as otherwise the Dota 2 paid mods thing seems to be going much smoother than their last attempt. We'll probably never know though.
_________________
Yes that's Minecraft-me in my av. Done by Reiu who is damn talented!