This is a
blog post
. To read the original post, please
click here »
So far the only competitive mode in Hearthstone that could cost you real-world money was Arena. However, random choice card deck making doesn't appeal to everyone, so Blizzard have announced that they're planning to introduce a high-stakes version of the Tavern Brawl -
the Heroic Brawl
.
Costing around $9.99 or 1000 gold a go, the Heroic Brawl will let you use constructed decks (although restricted to Standard only) and once you've made a deck will stick you with your choice until you either win 12 matches or lose 3 - after which you will receive your prize. A straight 3 loss without a win will net you just one pack, while the other extreme could net you gold, dust, Legendaries and many card packs. There are either levels of prize two between these two extremes, but you can bet with the high price point the people who do take part will be very, very good at the game.
Like the Tavern Brawl, a Heroic Brawl lasts only for a week and for the weeks they take part they will replace the Tavern Brawl. There will also be a limit on how many times you can enter per week, presumably to stop people going overboard and spending a load of money - especially since children also play this game and there's been a big storm about gambling in video games recently.
Will I take part in one? At some point in the future yes, I will probably give it a go. The idea is sound will be give time for the Tavern Brawls to rest to stop the same repeats becoming stale. I do see the cost being a bit of a barrier for people taking part too often, which again I suppose is to make sure that we don't get the gambling problem or overspending taking place.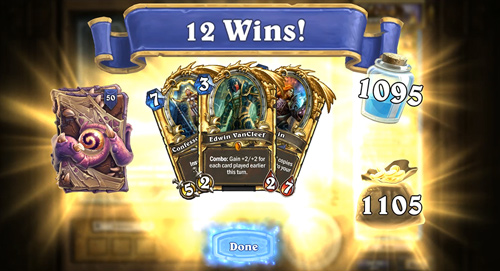 _________________
Yes that's Minecraft-me in my av. Done by Reiu who is damn talented!