EGX 2018 has kicked off, and day one has given us some announcements of new games, sequels and older games on consoles they haven't been before.
let's look at the main stage developer sessions first, kicking off with –
WillowBrook Post – Excalibur Games

Anno 1800 – Ubisoft Blue Byte
Arca's Path and the state of VR in 2018 – Dream Reality Interactive
11-11: Memories Retold – Aardman Studios
Twin Mirror – DONTNOD
The Dark Pictures Anthology – Man of Medan – Supermassive Games
Twin Mirror, The Dark Pictures and The Gardens Between number among the new releases shown, focusing mainly on darker more story based theatrical games while Cat Quest 2: The Lupus Empire is a quirky, bright RPG starring a cat and is the only direct sequel announced so far.
Not exactly sequels, Playlink: Chimparty adds some more games to the Playstation Playlink, while other titles such as Final Fantasy XV Pocket Edition takes an existing game world setting with a new art style and story, Fist of the Northstar Lost Paradise sees Kenshiro enter a new play style by the team that brought us the Yakuza series, Persona 3 Dancing in the Moonlight + Persona 5 Dancing in the Sunlight is a new entry in the bizarre dancing spin-offs to the popular Persona RPG series, and lastly everyone's favourite purple dragon is having his classic adventures updated for the PS4 with the Spyro Reignited Trilogy.
And a quick round up of the games shown ont eh Playstation stream –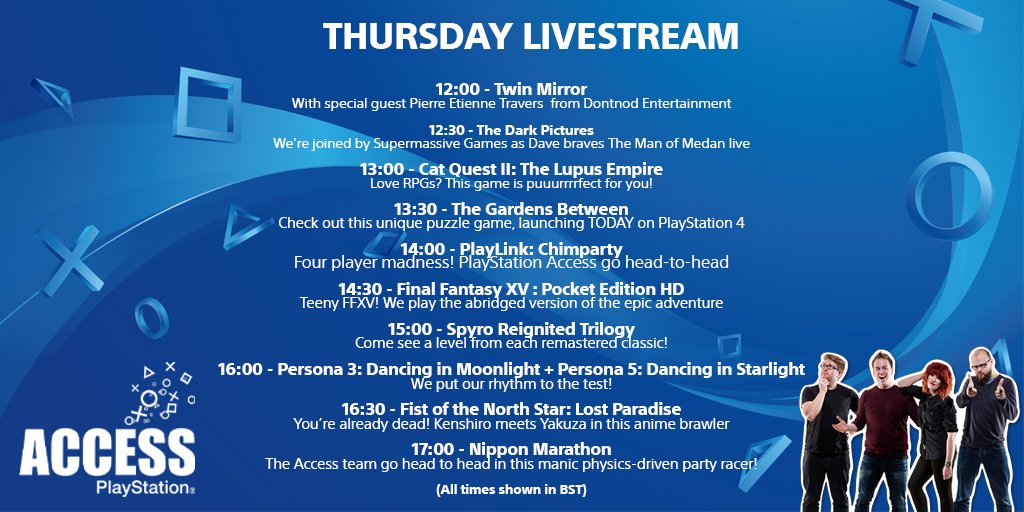 You can check out the trailers over in our playlist
That's it for the day one roundup, a strong first day for lovers of new and classic gaming. make sure to follow us on Facebook and Twitter for live blogging of the developer sessions!
~Sirhc