Hellpoint is a dark and challenging action RPG set in a heavily atmospheric sci-fi universe where the line between science and occultism is blurred.
Greeting true believers, it is I, Darsch, and I bring you a review of Hellpoint. Developed by Cradle Games and Published by TinyBuild.
Hellpoint is set in a derelict space station full of dreadful creatures and mighty boss fights with local and online coop play, should you prefer some company on your dark journey to combat the cosmic gods.
Hellpoint plays like a futuristic, grimdark Dark Souls, with many weapons to choose from as you progress through the game and numerous builds to create to suit your play style.  I personally preferred going with a full strength build at the start as that benefited the starting weapon's damage, and was required to equip The Column, which I found early on was, as the name implies, a huge concrete column.
Incredible sound effects and ambiance help set a creepy setting, plus wonderfully grotesque art draw you in and creep you out, while you battle your way through the game, struggling to survive.  And struggle you shall in the beginning, as most enemies can wreck your day in a couple of hits. So mastering the art of dodging and back attacking will be key to your victory, here on Irid Novo.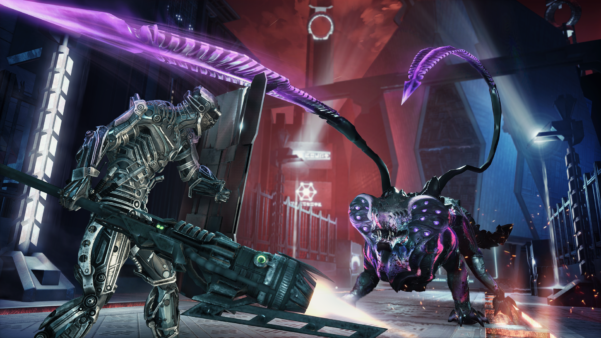 Combat is a strategic affair like in Dark Souls, dodge, block, attack, counter attack, back attack, in a dance of death and maintaining stamina. With each weapon having its own attack animations and styles, and mastering them is a must. Combat is fun and rewarding while fighting enemies, and bosses comedown to skill and attack patterns and a good build.
Character customization in stats is simplistic, raise the stats you need for your weapons and abilities and you are good to go, but be sure to raise health and stam though or you may find your self in dire circumstances.
Hellpoint is available NOW on PC (STEAM, GoG.com & EPIC Store), XBox One and Playstation 4!
Hellpoint receives a 10 out of 10 from me its a great game if you love Dark Souls style games go out and get this today.