This is a
blog post
. To read the original post, please
click here »
Willy-Nilly Knight is the great story, based on the legend of King Arthur. Immerse yourself in a single-player, isometric, story-driven RPG with real-time gameplay and turn-based combat, set in the colorful fantasy universe. Will you find the power to save the world in the war of gods? Find your answer.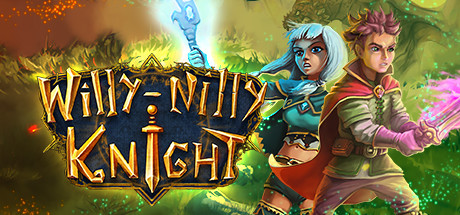 Developed by Russian Indie label
Double Dice games
,
Willy Nilly Knight
is their first full game release: a single player, isometric, turn-based tactical RPG set in an Arthurian themed fantasy world.
The combat in the game is very standard for the S-RPG or T-RPG genre, with each character, ally and enemy alike taking turns to move, attack, use an ability or use an item. All of these actions will use AP - or Action Points - which are displayed at the bottom of the screen, so as long as you have AP remaining you can select any combination of options during your turns.
Winning the battles gives you a few items, coins and some experience which goes toward levelling up.  This provides you with an ability skill point to learn or strengthen an ability, and a stat point which you can spend on one of the base stats to improve your character by adding more health, attack, defence, and so on.
In between battles you can explore the world, collecting items from hidden (or not so hidden) caches and talk to people for more back story, sometimes picking up a new quest or objective to achieve. The game also has autosave enabled and it creates multiple files so you can reload from an earlier point if you make a mistake, or want to try something else.
The setting and plot of the game is nothing entirely new as a basic fantasy story taking place within the Arthurian legends. You control Arthur, a boy who wakes up and assumes he is dreaming because the world is fantastical, then pulls a sword from a stone and then proceeds to save a damsel in distress.  You later learn this is your second character Guinevere. Arthur gradually starts his journey, where he finds that the Gods of this world are waging a war and wish to use his power as one of their weapons.
The game is somewhat lighthearted in tone with bright colourful characters and locations.  Even the darker dungeon setting is still quite family friendly, with no real violence or offensive content.  It feels like a game that could be enjoyed by a younger player, assuming they have the patience to plan out their battles, as going in guns blazing and just hammering the enemies is not likely to work for long against enemies that match or exceed your own power.
Overall,
Willy Nilly Knight
doesn't really bring anything new to a long standing genre, with familiar settings, story, enemies and battle system - but it does pull them off quite solidly, coming off as a warm, family friendly little adventure.
You can check out the video review below too
Rating: 6.5 out of 10
Willy Nilly Knight's Website
Willy Nilly Knight on Steam