This is a
blog post
. To read the original post, please
click here »
As a gaming-orientated radio station whose listener and staffing base incorporates many people with disabilities both physical and mental, we at
Sanitarium.FM
champion any attempt by a major corporation to create technology that caters for the less able user. For that reason, when we heard that Microsoft have unveiled an Xbox One controller designed with the differently-abled in mind, we knew this was something we had to take a look at.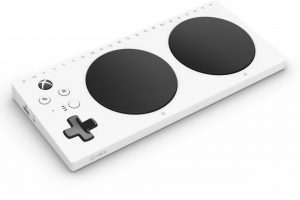 Officially named the Xbox Adaptive Controller, Microsoft's latest creation - which will actually support both XBox and Windows PCs - is billed as 'the most flexible adaptive controller made by a major gaming company'. As Microsoft tells it, When a customised controller from non-profit veterans' organisation Warfighter Engaged caught the eye of a Microsoft engineer back in 2014, Microsoft decided to create its own disability-friendly controller for the following year's Hackathon, which is where this project began. Refinements followed a year later; but it was the release of the Copilot function - which allows two Xbox One controllers to be treated as a single controller - that led Microsoft to declare their new controller concept ready for launch.
In fact, Copilot is actually the key to how this new controller becomes adaptable for a wide range of disabilities. Designed to be used on a desktop surface, the Xbox Adaptive Controller features all number of ports to allow additional controllers, headsets, switches and other assistive devices to expand on its base capabilities, allowing a user to create a custom gaming solution whereby a user can combine many different controls into a workable solution for their own body. The ports are labelled such that the user doesn't need to turn or pick up the device to see what goes where; and each controller can function as one or more physical buttons according to the user's needs. The Adaptive Controller itself sports two giant buttons, mapped to the A and B of a standard Xbox controller and with enough spacing to allow a hand to rest in between; along with a D-Pad and other smaller control buttons to the left side.
Microsoft
have explained the full story
behind the controller on their Story Labs, which also gives further details about the upcoming product. The Xbox Adaptive Controller will launch later this year, and will retail for $100 in the US, which is likely to translate to around £100 in the UK after the inclusion of VAT.