At a top secret research facility in the 1960s, a lonely janitor forms a unique relationship with an amphibious creature that is being held in captivity.
What do you get when you take a fantasy adventure and set it in a real historical war, combining childlike fairytale with the horrors of man? Well you get Guillermo del Toro's Pan's Labyrinth, but if you swap the fantasy adventure with fantasy romance and replace the brutality of the Spanish Civil war with the more behind closed doors but still brutal Russian/American cold war and you have Guillermo's latest film The Shape of Water.
The basic plot of the film follows Elisa (Sally Hawkins), a mute lady who works as a cleaner in a secret American facility where they conduct various experiments one of which happens to be research on an aquatic humanoid creature that the Americans captured from the Amazon, the chief security officer Mr. Strickland (Michael Shannon) believes the creature to be not more than a dumb animal but our heroine establishes a bond with the creature and finds comfort in its company.
As prolific as he is, Guillermo Del Toro once again proves that is an able director and a creative story writer with a solid understanding of the visual language of film, the sets are believable but lively, the camera shots fluid and varied which brings a certain amount of life to the picture that the standard shot, reverse shot used in a lot of other films.
Guillermo also shows that he knows the right people to work with the cast being lead by Sally Hawkins playing the mute lead in an incredibly expressive performance, along with antagonist Mr. Strickland brought to life in a menacing portrayal by Michael Shannon and then rounded out with acclaimed actress Octavia Spencer as one of the leads best friends, Richard Jenkins playing the other and Michael Stuhlbarg as a scientist with a conscience and a secret, special attention must be made to Doug Jones, former contortionist, current hit with Star Trek fans (as the Kelpien, Saru on Star Trek: Discovery) and Del Toro mainstay as the actor who brings the aquatic creature to life (with some of the creatures sounds actually supplied by Del Toro himself), but beyond actors Del Toro also works with an amazing crew with everything from the costumes and the sets to the sound design being handled flawlessly.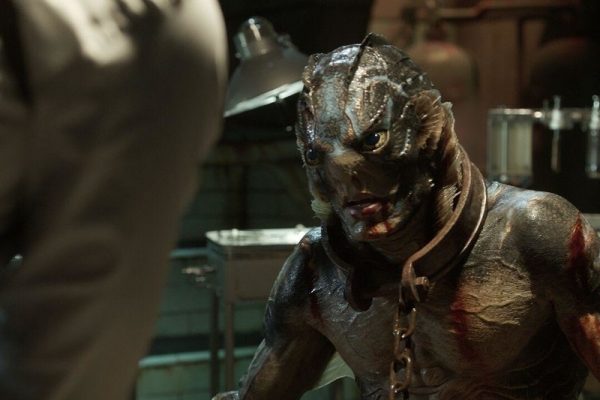 WIth the film combining such disparate elements there was always a risk that it would feel disjointed flitting back and forth between fairytale romance, monster movie and cold war espionage however the film handles all of these elements seamlessly alongside an equally versatile score by Alexandre Desplat.
In short this film is another fantastic entry into the works of Del Toro and well worth seeing, however do be warned that the film is no intended for children due to the adult elements including nudity, curse words and a few violent/gross scenes not for the faint of heart.
The Shape of Water keeps Del Toro's worth watching list growing with a solid 8.5/10
Check out the trailer below if you haven't seen it already!