We all have a superhero inside us, it just takes a bit of magic to bring it out. In Billy Batson's case, by shouting out one word – SHAZAM. – this streetwise fourteen-year-old foster kid can turn into the grown-up superhero Shazam.
After almost 20 years in the making, Shazam probably felt like the film that was never going to happen; Since the early 2000s, the project has struggled to come to fruition, but this Spring it became the seventh instalment in the DC Extended Universe with director David F. Sandberg at the helm. According to IMDB, Shazam has grossed over $300 million worldwide so far, a respectable sum in just three weeks.
We begin in 1974 in New York, where a young Thaddeus Sivana is in a car with his father and brother. During an argument, Sivana is transported to a temple known as the Rock of Eternity, where he meets Shazam, an ancient wizard looking for a champion to replace him as the last living member of the Council of Seven Wizards. In the search for someone pure of heart, Sivana proves to be tempted by the Eye of Sin displayed in the temple, which has previously proven to be dangerous. As a result, Shazam rejects him back to his own life. In the shock and mania of his experience, the family car is involved in a car crash, leaving his father with life-changing injuries and his brother blaming Young Sivana for the incident.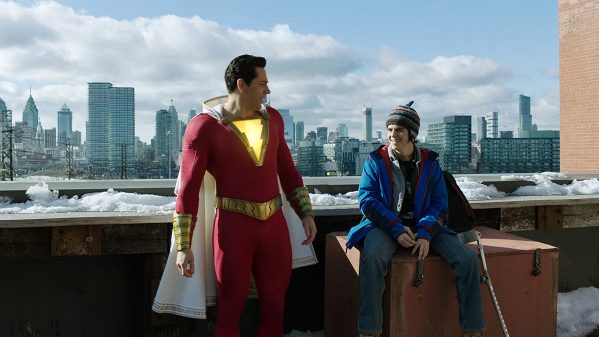 In present-day Philadelphia, foster kid Billy Batson (Asher Angel) is struggling to settle in his new foster home. He's trying to find his biological mother who he was separated from at a funfair as a child, so is reluctant to accept his new family's hospitality. Whilst running from the bullies who attacked his foster brother, Freddie (Jack Dylan Grazer), Billy ends up on a subway train that takes him to Shazam. In desperation for an heir, he chooses Billy to take his power and his name, transforming the fourteen-year-old into a fully grown man who looks suspiciously like Zachary Levi. With his new persona, Billy and Freddie bond over their love of superheroes to train and experiment with the powers that come with his new name of Shazam.
Meanwhile, a now Doctor Sivana (Mark Strong) returns to the Rock of Eternity after a lifetime of research to steal the Eye of Sin, using it to seek revenge on his family and take on Shazam to obtain his power just as any respectable villain would.
For me, the humour in this genre is not unusual anymore, though it is certainly refreshing for DC as it's presented in a way that feels natural not only for the characters but also the actors. Levi and Grazer have a great on-screen rapport and have proven in previous roles to both be excellent comedy actors. I hope in particular that fans of action-comedy series Chuck are not disappointed as Levi's Shazam shares similarity with Chuck's frantic, yet charming, personality as a tech wiz turned CIA agent.
On paper, Shazam doesn't sound like it could translate to the big screen as well as the rest of it's DC counterparts, but it's proven me wrong. It doesn't offer the serious, dark plots or the edgy characters we've come to love from DC, but if anything I think that has worked to Shazam's advantage.  It's taken what we loved about Deadpool (especially Deadpool 2) and marketed for a wider audience so that those who find superhero films either too intense or overly complicated will hopefully feel less alienated. It's not going to suit everyone, but hey, neither did Ben Affleck as Batman.
The action scenes are strong, which according to Editor Michael Aller, were difficult sequences to work on. The plot twists are not exactly groundbreaking, but no less satisfying to watch.
I really enjoyed the film and it gets a 9/10 from me.