This week on the Sunday Night Showcase –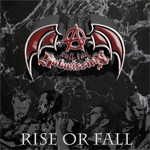 We will be joined in IRC and live on air by
With a modern metal sound that is evocative of Avenged Sevenfold, Nova Scotia's A Call for Submission is poised to expand their reach with the release of their first studio album, Rise or Fall.
The guys from A Call For Submission will be joining us live on air this evening, answering you questions from IRC, Facebook and twitter
Make sure to join us aswell to get some requests in! The Live request system both on the website and in IRC @ irc.sanitarium.fm port:6667 #sanitarium.fm for live show discussion
Also, keep an eye on this thread for future youtube videos and info about the band and for any ramblings from the band themselves
Yes indeed, Sunday Night Showcase LIVE!!! with your hosts, LoneSamurai and Twisted!!!
Sunday 18th August, 9pm til Midnight GMT (4pm til 7pm EST)
See you there
~Lonesamurai