Microsoft has begun the global rollout of what it is calling the "Windows 10 Creators Update". Arguably the first major feature expansion of the operating system since the one year anniversary patch, the Creators Update has a wide set of new tools. We'll break down the new features in just a moment, but if you want to get your hands on the update there are two ways.
Get the update automatically via the phased rollout. This will involve making some choices related to your privacy settings (more on that later)
Manually via the Software Download Site.
Now then, lets move on to the new creativity tools and features  of the Windows 10 Creators update
3D In Windows 10
Microsoft has added a new app called Paint 3D that allows users to create and modify 3D objects, easily change their color or texture and even turn 2D images into 3D ones. This also ties into an online creative community at Remix3D.com that will allow creators to connect and get access to a library of 3D objects for use within Paint 3D.
This seems to be part of a philosophy present through the update that everyone is a creator and Microsoft is putting the tools to communicate and express ourselves into our hands with this update.
Windows 10 Gaming Features
We've actually covered some of these separately, but it's worth going over them again. The Creators Update includes built in game streaming to Beam, a service similar to Twitch that was acquired by Microsoft last year. Beam touts the ability to interact with streamers in near real time, and was interesting enough to that several staff here at Sanitarium.FM tested it out. With the Creators Update, gamers will be able to press Windows key + G while playing a game to bring up the game bar, then click the icon to launch Beam.
In addition, a new section has been added to the Windows Systems Settings: Gaming. This section will allow access to the standard Game bare, GameDVR and broadcasting options, but will also allow access to the new Game Mode. Game Mode is, in theory, a way to dedicate more system resources to your games. It will work with both Win32 games (most Steam games) and UWP games from Microsoft's own store. While this certainly seems to carry forward with Microsoft's  promise to better support gaming, early tests with Game Mode showed none to almost no performance increases when it was active.
Microsoft Edge Upgrades
Edge, Microsoft's proprietary browser is receiving a lot of attention in the Creators Update as well. The updated version is being touted as faster than Chrome, with Microsoft saying it will stream video up to 3 hours longer than Chrome and 5 hours longer than Firefox while unplugged. This would be a welcome feature for all the laptop users out there that are binge watching The Walking Dead while on the go.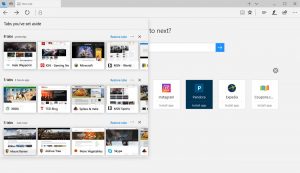 A new Tab preview bar is also being added that will allow you to glance at a visual preview of every open tab without leaving the page via touch, mousewheel or a touchpad. To go along with this are two new buttons that let you set tabs aside, moving them out of your way with the option to restore them later.
Windows Store and Cortana
The built in app marketplace for Windows is getting some attention as well, with digital books becoming available. Readers will be able to find New York Time's Bestsellers and offerings from  Penguin Random House, Simon & Schuster, HarperCollins Publishers, Hachette Book Group, Houghton Mifflin Harcourt, and Ingram Content Group to bring a wide range of authors and genres to the store. Much like the Amazon Kindle app, books purchased through the store front will be available on all Windows 10 devices.
Cortana has received some tweaks in the Creators Update, allowing you to control music playback, helping you work easily across multiple PCs by accessing the cloud and can even turn your locked PC into a fullscreen voice activated experience.
Wrapping It All Up
Theres a lot in the Creators Update, but there are still a few things to touch on.  There are numerous minor visual and security tweaks present in the Creators Update, many of which would take far to long to go over in detail. Then there are the ads. You may have noticed Microsoft slipping ads in all over Windows 10 in the form of app suggestions.  These can be disabled easily enough, but they require accessing a variety of menus to disable specific options, depending on which applications you are using. Fortunately, our friends over at PC Gamer have put together a handy little walkthrough.
So. Will you be grabbing the Creators Update right away, or will you wait for the rollout to get to your PC? Which features are you most interested in. Let us know in the comments!