So, it's been another week of WoW playing. Both Bodeclaw and Teddired have levelled up slightly and gotten a little stronger. so, what's new with them this week?
Running Wild
I'll be honest. I chose Worgen not only because of my dislike for the typical human, orc, elf… etc. classes you usually get, and me wanting something different… I chose her because frankly werewolves are awesome. And with Druid being the class I need never ever be anything human again, and this week I decided to test out one of the Worgen abilities I'd already learned – Running Wild.
For those who aren't aware, Running Wild basically allows a Worgen to move as fast as they would be mounted without a Mount. Unfortunately the hat and mace combo kind of makes Bodeclaw look a bit like a Victorian bard who was turned into a dog, but I loved running around like this. In fact this week I probably spent more time travelling like this than I did in Travel Mode. Unless I was swimming, because frankly Worgens can't swim as fast as my Travel Form does.
I spent my time running up and down the coast satisfying a bunch of Druidic quests for Malfurion this week. There was also a point where I sat on top of a cave infested with Naga to wait another player who was a Mage so we could tag the boss and not have one of us wait for the respawn. And that's when I started to play with the slash-commands. I literally sat atop that cavern in my Worgen form to wait… and they still ran right past me. Typical.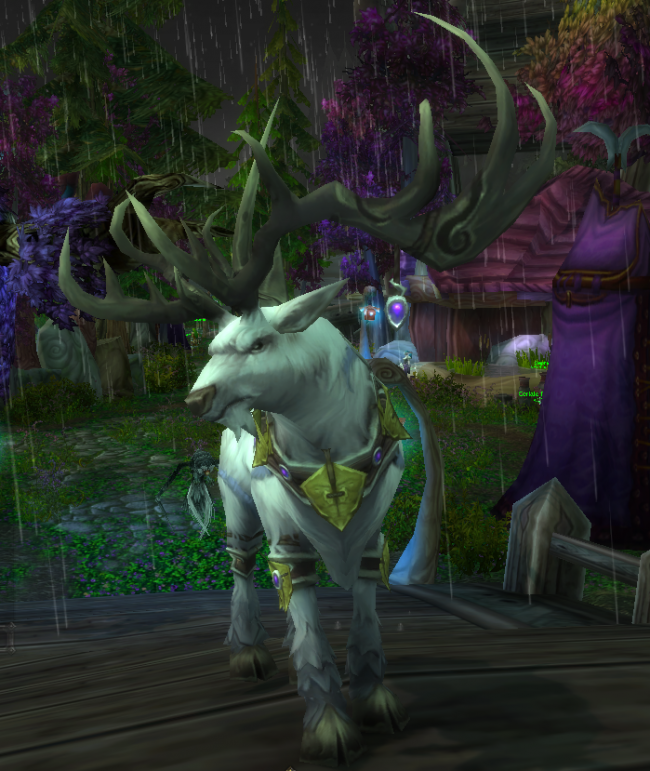 Every now and then I also had to return to Lor'Danel to sell junk from my packs and do various other things. I also had one trip back to Darnassus to bank some items too – thank god for the flying transport systems. As long as I find my flight locations for each new area (and believe me, I check my map to be sure I do!) I just have to pay a bit to fly back. Although as a Druid it is also fun to run of course.
And after all that running, even big puppies need their rest. G'night…
Dungeon Running
Meanwhile, Teddired had a much different adventure. I spawned back where I'd left off and went to complete quests, only to be whispered by someone nearby inviting me to join their party for a bit of dungeon running. I decided, why not?
I will admit at first I got a little lost. I did warn the inviter that I was newish to the game, but they were very patient with me. So were the others to be honest. So Teddired and her boar entered into a series of dungeons and it was honestly very good practice for making use of more of my Hunter abilities. I tend to spam Cobra Shot and I did here too, but at the same time I kept an eye on my boar and made good use of Mend Pet as well as other types of shot and summoning the temp Dire Beast as an attacker. I don't know how well I honestly did, but the group seemed fine with me. So if you're reading this Blackpowder Inc, thanks for the fun. Let's do it again some time. Hopefully no other end boss has learned the power of the locked door.
And thanks for the laugh with the blast zone not being cleared in time…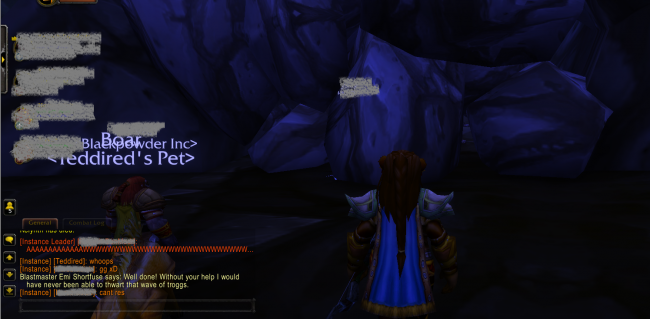 That had to hurt.