Wolfenstein® II: The New Colossus™ is the highly anticipated sequel to the critically acclaimed, Wolfenstein®: The New Order™ developed by the award-winning studio MachineGames.

An exhilarating adventure brought to life by the industry-leading id Tech® 6, Wolfenstein® II sends players to Nazi-controlled America on a mission to recruit the boldest resistance leaders left. Fight the Nazis in iconic American locations, equip an arsenal of badass guns, and unleash new abilities to blast your way through legions of Nazi soldiers in this definitive first-person shooter.

STORY:
America, 1961. Your assassination of Nazi General Deathshead was a short-lived victory. Despite the setback, the Nazis maintain their stranglehold on the world. You are BJ Blazkowicz, aka "Terror-Billy," member of the Resistance, scourge of the Nazi empire, and humanity's last hope for liberty. Only you have the guts, guns, and gumption to return stateside, kill every Nazi in sight, and spark the second American Revolution.
It's always an interesting conflict of events when a virtual product manages to resonate with current events. This was especially true in the advertising leading up to the release of Wolfenstein 2: The New Colossus, in which plays of presidential tag-lines were used to full effect: the desire to "Make America Nazi Free Again" by being a part of the revolution. Of course, this territory is nothing new for the Wolfenstein series, which made its mark by letting you shoot Nazis and take down Mecha-Hitler from as early as 1981 – so one could argue it's nothing new, but holding a mirror to real life whether on purpose or just by the nature of the theme of their game series certainly helped create Wolfenstein 2 hype.
The reboot of Wolfenstein that came around in 2014 is still one of my favourite titles to revisit. It is, at its core, a hard-going tale of a soldier's desire for revenge in a world that is falling apart. The gameplay is smooth in its combat – if not a little dull – but it had some genuinely amazing sequences and an ending that, coupled with great soundtrack choices, made me pretty emotional. We were also treated to The Old Blood as a DLC excerpt that was good, if not a little clunky with the way it transitioned from chapter to chapter.
This made Wolfenstein 2 a release day purchase for me. The Special Edition, no less – and regardless of any opinion I have formed on Wolfenstein 2, I can happily say I own a BJ Blazkowicz action man now. But gimmicks aside, I was most excited for the game itself. You are immediately treated to a recap of the events of the first game (sans The Old Blood, as it was a prelude) before diving into the current one. Where The New Order treated us to a jumble of flashforwards and time-skips, the second title manages to give us not only time-skips forward, but flashbacks as well. You hit the shock factor almost straight away with an introduction to BJ's abusive Texan father and his caring Polish mother.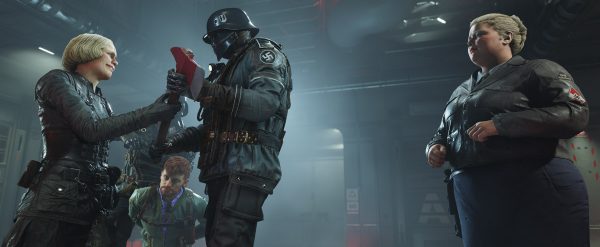 While not wholly unexpected of a game that centres around kicking the daylights out of Nazis, Wolfenstein 2 is not afraid of the shock factor. We are immediately set up to hate BJ's father for the racist epithet throwing, domestic abuser that he is. We learn that BJ has obviously taken on more of his mother's sentiments about life, but that the harsh treatment by his father is what pushed him to be resilient. It is also what sent him off to the army, ironically starting off the chain of events through the games series. It seems like a strange inclusion at the start of the game, though there are few loaded guns in this game that don't go off eventually; your father does, eventually, get what's coming to him, and the setup makes it worth it.
This is something I find Wolfenstein 2 succeeds at greater than its predecessor with only few exceptions. It is fantastic at build up, and at surprising you. There are some strong twists in the story, and unlike The New Order, the plot moves at a greater pace, allowing it to feel like more of a rollercoaster and less of a log flume. It certainly lacks in some of the huge set piece boss fights of The New Order or, to compare it to its sister title, DOOM. But the spectacle is made up for in some equally impressive visual sequences. To not say too much of spoilers: this is a game that you get to control robots; fly into space; and fall from the sky. You also get to shoot Nazis while wheelchair bound, and – as someone with limited mobility – I found that bit particularly gratifying.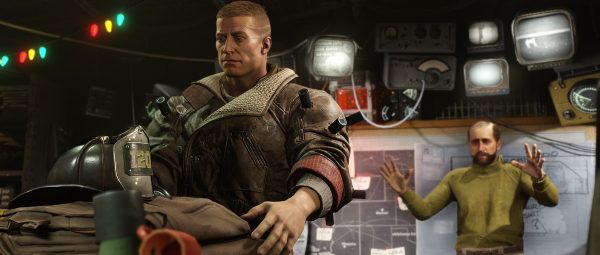 It does miss the mark in some parts. We get to know the characters that BJ works with more, and they seem to have become caricatures of themselves since The New Order. This isn't necessarily bad, either, as it fits with the changing tone of the game. You find yourself in the midst of an underground rebellion that is finding its purpose and is driven on by loss early on in the story. It has gone from being a story about one man's revenge to BJ becoming a figurehead of revolution. You want a cast of NPCs that you remember the personalities of. There are some great new additions to the cast, too.
From this is one of my greatest criticisms of the game: you need to play the first one. You might say that's not a real criticism, but you may have noticed that I am greatly comparing the two titles to one another. It's fairly necessary, in my eyes, because to understand why Frau Engel (the main villain of Wolfenstein 2) hates BJ quite so much, you need to see what happened in The New Order. To fathom why Anya, his partner, is so important, you need to see what happened to the pair of them in the first title to fathom the bond between them both. While the recap at the start of the game is efficient enough in laying out baseline events it doesn't help grasp the emotional side of the storyline.
One of my other gripes is connected to this, and is in the form of the "Wyatt or Fergus" dilemma. In The New Order, you have to make a very crushing decision about one of your team-mates early on in the campaign. It shapes who you have around you for the rest of the game; devices you can learn; weapons you can use and even one of the boss fights. It is a decision that shapes the narrative. In Wolfenstein 2, you have to choose again through a flashback of Deathshead – a villain is criminally missing in references in the newer game otherwise – so there can be a chronological order to things. You are given back the gun relevant to whichever team-mate you choose, and that's more or less it. There are some minor story points relating to either Fergus or Wyatt, but it feels like a missed opportunity.
All in all, I would definitely recommend picking up a copy of Wolfenstein: The New Colossus. It has faults, but they are compensated for by the flow of combat, an effective storyline and the additional content. There is more to do after the plot ends, as you begin to build your revolution on the back of your pains and your triumphs. And, being true to Wolfenstein as a series, there is a ton of stuff to collect, giving it appeal to any of you out there with a desire for completion. However, if you haven't picked up the first title, or its DLC yet, I would put Wolfenstein 2 to one side until you get to do so.
This is a game that is best experienced when you know BJ as he has come to be now, along with his comrades at arms against the Nazi menace. It is best experienced knowing why you are fighting and what you're fighting for. While the hype train was strong with its brilliant and topical viral advertising, Wolfenstein 2 has its story at its core. The New Order taught us about revenge; The New Colossus sings of revolution. It would be easy to get swept up on Nazi killing alone – and that is important within the game, obviously – but this is a title that needs to be known to really hit home.
Wolfenstein II: The New Colossus gets a facist bashing 4 out of 5
~Vamp
Wolfenstein® II: The New Colossus™ is available on teh following platforms –
PC Steam – http://store.steampowered.com/app/612880/Wolfenstein_II_The_New_Colossus/
Xbox One – https://www.xbox.com/en-US/games/wolfenstein-II-new-colossus#purchase
Playstation 4 – https://www.playstation.com/en-gb/games/wolfenstein-ii-the-new-colossus-ps4/
Nintendo Switch – https://www.nintendo.com/games/detail/wolfenstein-ii-the-new-colossus-switch