First released on STEAM in June 2016, but recently released on Nintendo Switch, takes a look at a great game, out on a new platform  ~Lone
Command a steam-driven pirate crew in a series of epic tactical shootouts. Inspired by classics like XCOM and Worms, SteamWorld Heist is turn-based strategy with a twist: You manually aim the guns of your robots, allowing for insane skill shots and bullet-bouncing action!
Steamworld Heist is the third game in the Steamworld franchise created by Swedish indie developers Image & Form, set in what appears to be the same universe still populated with a cast of colorful steam powered robots but this time with a new set of characters and a new style of game play, Heist being a blend of turn based strategy and skill based 2D shooting.
The story of Steamworld Heist follows Captain Piper Faraday, a smuggler and occasional pirate who is rebuilding her crew in order to collect as much swag (gallons of water) as possible and maybe make the universe a safer place, as long as it doesn't interfere with her livelihood of course. Faraday begins her journey on an enemy ship where something went terribly wrong and she ended up alone, but you soon meet up with another crew member, the surly Seabrass, during the tutorial.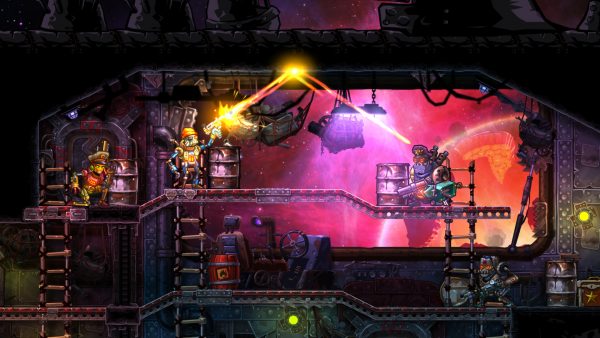 Upon completion of the tutorial you are introduced to the main ship which acts as a sort of hub between levels where you can relax, chat with the crew you have found/enlisted so far, and check your items/crew/skills at your leisure, then it's off to the map to select a level or store to visit.
Levels in Steamworld Heist are largely procedurally generated so the ship layout will change each time, but the objective remains the same, whether that is collect x amount of swag, defeat x amount of scavengers etc., normally procedural generation in a game is a bit of a gripe of mine because although the programming can create a seemingly endless amount of level designs there are certain limitations in that some parts will always need to connect or things come out looking unnatural or boring, but during my time with Steamworld Heist I did not experience this and I played through levels a few times trying to get the maximum reputation stars (generally 3 a level) and level up some new crew members and I believe the reason why the procedural generation didn't get to me is because the core gameplay is so well thought out and the implementation is near perfect.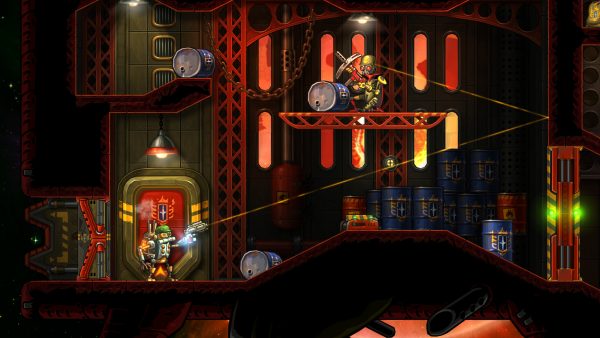 Gameplay consists of a simple squad turn based movement and attack/skill or item round followed by enemies (if there are any) turn and then repeat until one side is destroyed and if you are skillful enough to make sure the other team is the one destroyed you can then explore the ship and collect the swag however you will be restricted to the same movement limitation regardless of enemy robots left, meaning that if your character has 6 movement points (as most of the starting ones do) you can move 6 spaces and attack or you can move a few extra spaces (referred in game as "sprinting") and give up your chance to attack to cover more ground which can be handy if you want to move your character into cover or if you're making a mad dash for the exit (killing enemies doesn't give you anything extra so unless it is the objective it's generally optional), now the attacking is where things get really interesting.
Attacks in the game are largely ranged and the exact type will be determined on the character class (unchangeable) and the weapon they have equipped (a little more versatile but linked to the classes as well), the characters at least during my playtime all used guns as their primary weapon (swapping to a melee attack when enemies are one space away) and these guns range from a scoped pistol to a shotgun all the way to a grenade launcher, each one handles differently and is useful in certain situations but by far my prefered weapons were the scoped ones, the scopes in the game come paired with laser sights so you can see the trajectory your bullet will take before you fire allowing you to set up some very satisfying ricochet trickshots, the ricochets work with the other weapons as well but without the laser sight they require a keen eye and some patience to pull off the same kind of shots.
The game is refreshing in that it really is set up to reward skill over luck, every situation I was able to overcome with a well placed shot or a tactical retreat, sometimes losing an ally along the way but their scrap is returned to your ship so they can be rebuilt to fight another day, the only penalty being that the destroyed robot doesn't take their share of experience but you can always take them back to the level or even to an easier one to harvest some experience, get a few level ups and come back with a more powerful and tactical team and as you are the one that aims the gun and the set up is turn based you really do have the time to plan your attack and pull off some spectacular shots, maybe aiming for the head for a (by default) 50% chance of a critical hit or taking out their legs to stop them from being able to move, or even if you are so inclined firing a shot at their hat to knock it off their head and (assuming you don't already have it) picking it up and taking it for your own.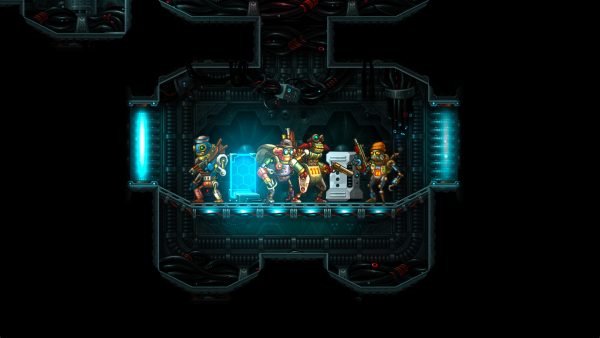 In summation I had a wonderful time with Steamworld Heist, the characters are cartoony, cliched and simplistic which fits right alongside the strong undercurrent of humour throughout the game, the graphics are polished and wonderful to look at, the music (by steampunk band Steam Powered Giraffe) is fitting and great to listen to and there is something so satisfying of bouncing a bullet off two walls and getting a headshot destroying a robot who was hiding behind cover, the levels are short but action packed and I feel like I will be spending quite a while enjoying my time there, if you like well paced turn based tactical games and/or impressive snooker trick shots then you could do much worse than checking out Steamworld Heist for yourself.
Steamworld heist gets a steampunk 9/10 from us!
SteamWorld Heist: Ultimate Edition, including all previously released DLC, is out now on Nintendo Switch for $19.99 / €19.99 or the equivalent.
The standard edition is available for $14.99 / €14.99 on Steam, PS4/PS Vita, Wii U and Nintendo 3DS.
A mobile version for iPhone and iPad is yours for $9.99.
Check out the trailer below